Arsenal: Alisher Usmanov says club poised for trophy-winning era
Last updated on .From the section Football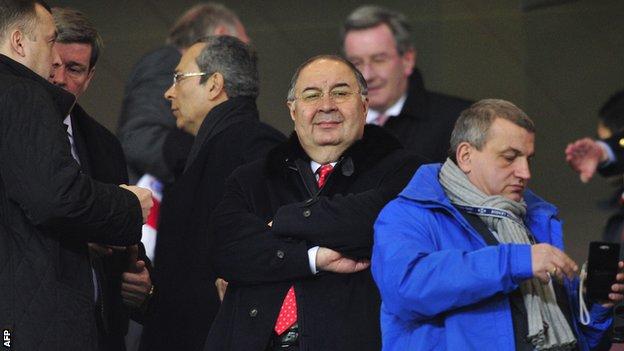 Arsenal's second-biggest shareholder Alisher Usmanov believes the club are to enter an era of winning trophies.
Uzbek billionaire Usmanov, who holds 30% of the shares at Arsenal, says more success will follow.
"I think we begin a new era for Arsenal where we win trophies. That is most important for football," the 60-year-old Russian told the Daily Telegraph.
"The club is very well placed to succeed."
Usmanov, who has a fortune estimated to be worth £16bn and is ranked 42nd on the Forbes rich list, says the wait for a trophy could have been avoided had the Gunners not gone into debt to build the Emirates Stadium.
Alisher Usmanov in focus
Most of Usmanov's fortune is held in iron ore and steel producer Metalloinvest
In August 2014, he was listed by Forbes as being worth £16bn
Bought into Arsenal in 2007 by paying former vice-chairman David Dein around £75m for his 14.65 per cent stake
Increased his shareholding to 30 per cent stake in February 2012
Usmanov criticised Arsenal's lack of ambition and financial model in an open letter sent to the board in July 2012
"The board and main shareholders chose the debt option at the time, which led to Arsenal going almost 10 years without winning a domestic title or the Champions League," he said.
"The acquisition was financed with debt, which would be repaid through match-day revenues among other sources.
"There is another way of doing it - when shareholders buy all of the assets and contribute them to the club. As a result, these debt-free assets may generate income for the club."

He added: "As a result of this choice, they were selling players and were unable to buy top players."
Usmanov also revealed he has never spoken to American Stan Kroenke, Arsenal's majority shareholder with a 63 per cent stake in the club, and intends to retain his stake for the long haul.
"I have not had any contact with Mr Kroenke," he said. "I have no plans to exit. I wish Arsenal success and hope that they win trophies."