Premier League to introduce new rules on head injuries

By Richard Conway
BBC Radio 5 live sports news correspondent
Last updated on .From the section Football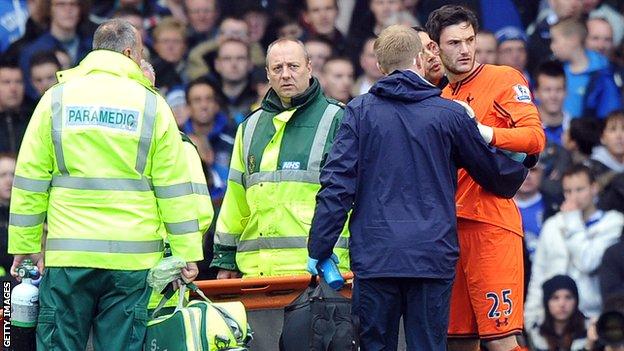 The Premier League is to introduce new rules on how to deal with head injuries from the start of the 2014-15 season.
A player suffering a head injury must now leave the pitch and the club doctor must decide if a player is capable of continuing, not the team management.
Home teams also have to have a third "tunnel" doctor on match-days.
Last season, Tottenham were criticised for letting keeper Hugo Lloris continue playing after he lost consciousness in a goalless draw against Everton.
New concussion measures at a glance
A player suffering a head injury must now leave the pitch.
Team managers or coaching staff will no longer decide if a player continues to play and the final decision will be with the club doctor.
Home teams in the Premier League must now have a third "tunnel" doctor on match-days to support the work of the doctors for both sides.
The "tunnel" doctor will serve as an extra pair of eyes to spot potential concussions and watch TV replays to see the severity of incidents.
The FA, in conjunction with the Football League, PFA and LMA, is to launch a campaign aimed at making players and managers at all levels aware of the dangers of head injuries.
The Premier League is to employ its own doctor to conduct research and liaise with all 20 club doctors in the league on key medical matters.
All Premier League players are to undergo baseline neurological assessments as part of their annual medical check-up to help doctors measure their recovery time if they suffer a concussion.
After Lloris received treatment, his then manager Andre Villas Boas sent him back onto the pitch for the remainder of the game, a move which brain injury charity Headway described as displaying an "irresponsible and cavalier attitude".
That incident, along with others, is behind the tightening of regulations on players briefly being knocked unconscious and then continuing to play.
At this summer's World Cup in Brazil there was a clash between Alvaro Pereira of Uruguay and England's Raheem Sterling. Pereira, who was left unconscious following the collision, remonstrated with doctors that he was able to carry on playing after receiving treatment.
He later apologised to the team medics after watching the TV footage of the incident.
Similarly, Christoph Kramer of Germany was substituted during the first half of the World Cup final after sustaining a head injury.
Kevin Phillips, the former Premier League striker now working as a coach with newly-promoted Leicester City, believes the rule change is a positive move.
"I think it's pretty sensible," he told BBC Sport. "Certainly as a player you want to be back on the football pitch but we've seen cases over the years where I think it has to be taken out of the player's hands.
"It may frustrate quite a few managers but the health and safety of the players comes first."
Headway spokesman Luke Griggs also welcomed the new rules.
"It's an important step forward in the protection of footballers at all levels, especially at grass roots," he told BBC Radio 5 live. "It's vitally important that we lose this culture where it's brave and courageous to play on.
"Concussion is an evolving injury with symptoms that may take time to manifest, and if you don't get it properly assessed, it may be too late."
Concern about the effects of concussion has grown in recent years, and Dr Barry O'Driscoll resigned from the International Rugby Board medical committee in 2013 in protest at its concussion protocols.
A recent report by a group of politicians also suggested young footballers should be limited in how often they can head the ball.
In the United States, the National Football League reached a $765m (£490m) settlement with former players who said it hid the dangers of concussion.