Sam Baldock: Bristol City fend off Brighton & Hove Albion bids
Last updated on .From the section Football
Bristol City manager Steve Cotterill is confident captain Sam Baldock wants to stay at the club, despite attracting interest from Brighton & Hove Albion.
Cotterill told BBC Points West that he had turned down "derisory" bids for the 25-year-old striker, who was League One's top scorer last season.
And the City boss added: "Sam seems really happy. He hasn't given me one inclination that he wants to leave.
"Before the first bid came in from Brighton, he told me it was coming in."
Cotterill added: "I don't envisage him knocking on my door and saying he wants to go to Brighton. That's my gut feeling.
"But that's for Brighton - I can't say that if someone else comes in. I've been in the game long enough to not rule that one out.
"We've looked at all the bids but they're nowhere near it. The bids that we've had for Sam, for what he's done, have been derisory. I can only speak as I find it at the moment."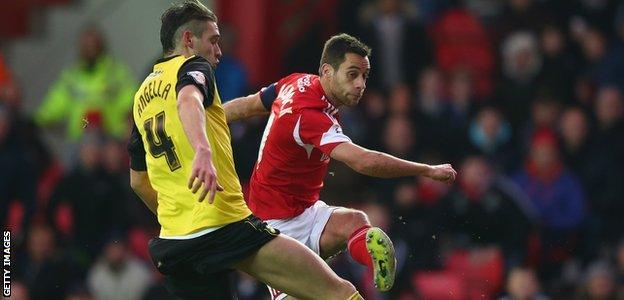 Baldock started out at MK Dons and attracted interest from other clubs after a successful 2010-11 season, when he scored 14 goals in 34 games.
He went on to join West Ham in August 2011 but lost his place in the team after injury problems.
The following season, Bristol City signed him on a three-year deal for an undisclosed fee and last term proved his most fruitful, with 26 goals in 54 appearances in all competitions.
Sam Baldock: Season-by-season

2005-06

MK Dons (L1)

One game, no goals

2006-07

MK Dons (L2)

Two games, no goals

2007-08

MK Dons (L2)

Nine games, no goals

2008-09

MK Dons (L1)

44 games, 13 goals

2009-10

MK Dons (L1)

28 games, 10 goals

2010-11

MK Dons (L1)

34 games, 14 goals

2011-12

MK Dons (L1); West Ham (Champ)

30 games, 11 goals

2012-13

Bristol City (Champ)

34 games, 10 goals

2013-14

Bristol City (L1)

54 games, 26 goals
Despite the interest of the summer, Baldock himself says he will not let the speculation disrupt him.
"I'm used to it now. I've been through plenty of off-seasons and transfer windows where there is speculation and I won't let it affect me," said the striker.
"I've got a job to do here and I'm looking forward to the season."