Salisbury City lose Conference expulsion appeal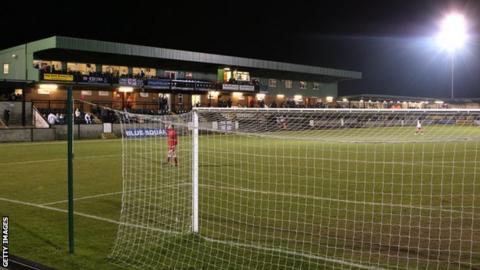 Salisbury City have failed to overturn their expulsion from the Conference.
The Whites were relegated one division to Conference South in June after failing to pay players and staff by a set deadline.
And two weeks later, the ailing Wiltshire club were then thrown out of the Conference completely after missing further payments.
The Football Association said the full reasons for dismissing the appeal would be published in due course.
"The Appeal Board decided not to allow the former owners of the club to attend the hearing.
"The Appeal Board carefully considered a request from those former owners to take a full part in the appeal, but came to the view that they had no legal standing to represent the club," said a statement on the FA website.
"As a result of this appeal, Salisbury FC is no longer able to participate in any division of the Football Conference.
"The club will be removed from the Football Conference fixture list for the coming season starting this Saturday, 9th August."
Salisbury's summer of uncertainty
April 2014:
Club put under transfer embargo for failing to pay players.
Chairman William Harrison-Allan appeals for funds to sustain the Whites next season.
May 2014:
Mark Winter and Outail Touzar complete takeover, taking on £150,000 debt.
June 2014:
Major backer Winter takes legal action to overturn Touzar's ownership and eventually quits.
Club are demoted to Conference South.
July 2014:
Salisbury expelled from the Football Conference after failing to pay outstanding debts.
Consortium claim to have taken over, ousting Touzar from the club.
Football Association and Football Conference confirm no takeover has been ratified
Consortium confirm they are set to enter High Court in an attempt to overturn Touzar's ownership
Moroccan businessman Outail Touzar still holds the majority stake in Salisbury.
However, a five-person consortium has attempted to take over the club from chairman Touzar, although this deal has yet to be ratified by the authorities.
Touzar and supporter Mark Winter took over the club for £1 in May, with the pair becoming responsible for £150,000 worth of debt.
The latter paid around £75,000 of his own money to try to save the Whites, while Touzar did not provide any investment.
Winter attempted to overthrow Touzar, but eventually quit as co-owner because of the Moroccan's reluctance to hand over his stake.
Since their ownership issues, the club have seen their manager Mikey Harris quit, along with the majority of last season's first-team squad.
Salisbury were not replaced by another team following their demotion from Conference South, leaving Ebbsfleet without a game to play on Saturday's opening weekend.