Hereford United still to be granted ground safety certificate
Last updated on .From the section Hereford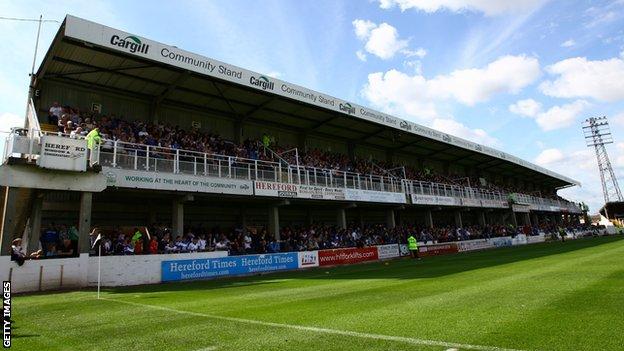 Troubled Hereford United are still to receive a safety certificate for their Edgar Street home, just four days before they are scheduled to kick off the new season in the Southern League.
The club met with Herefordshire Council, as well as members of the emergency services, on Tuesday.
A final decision on the certificate is due on Thursday, which is issued by the council to ensure spectator safety.
If it is not issued, Saturday's game with St Neots would be under threat.
The council are not yet satisfied that all their safety requirements have have been met, but will work closely with the club over the next few days to try and sort out outstanding issues.
"Unfortunately, the council, police and fire service are not satisfied that all of the necessary statutory requirements have been met, or that all of the relevant paperwork is in place," said a Herefordshire Council statement.
The club have already had to cancel several pre-season friendlies, while the match against Turkish giants Besiktas, had to be played in West Yorkshire.
Meanwhile, the Hereford United Independent Supporters Association has decided to wind itself up, following chairman Keith Dodd's decision to step down.
Although they have had their transfer embargo lifted and backed by the Southern League, Hereford remain under threat from the long-standing winding-up order brought by former manager Martin Foyle.
Along with a petition for their latest tax bill from Revenue & Customs, this was adjourned for a fourth time last week until 1 September.
With some debts settled, the Bulls are scheduled to meet creditors on 15 August to finalise a Companies Voluntary Agreement to sort out the rest of the outstanding bills.
Despite staying up on the final day of the season, the Bulls were then expelled from the Conference Premier for not settling their debts.