Frank Lampard: Manchester City loan move 'fantastic opportunity'
Last updated on .From the section Football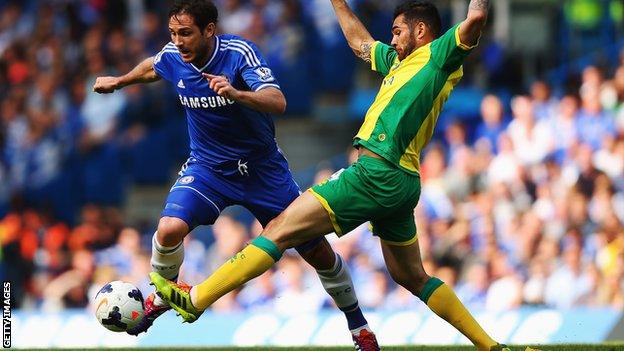 Frank Lampard described his loan move to Manchester City as a fantastic opportunity as he started training with the Premier League champions on Wednesday.
The England international midfielder is on loan from the US side until January.
"This is a new chapter of my career and I'm really excited about the experience," said Lampard, 36.
"I'm looking forward to getting into training and making a contribution for Manchester City."
Lampard added: "Joining up with Manchester City is a fantastic opportunity for me to continue to train and play at the top level and make sure I am in top condition for New York City."
Frank Lampard's route to City
Born - Romford on 20 June, 1978
West Ham United 1995-2001 - 187 appearances
Swansea City loan 1995/96 - nine appearances
Chelsea 2001-2014 - 649 appearances
New York City FC - July 2014
England caps - 106
Lampard will be eligible for all of City's Champions League and Premier League games for the duration of his loan before New York City, which is jointly owned by Manchester City and baseball club the New York Yankees, start their season next March.
Lampard had previously met City manager Manuel Pellegrini and some of his new team-mates in New York during their tour of the United States.
Pellegrini said: "Frank is a world-class midfielder and this is an opportunity which works perfectly for everyone, the player, Manchester City and New York City.
"I'm looking forward to working with him and integrating him into our squad."