Rangers share issue plan falls short of £10m target

By Chris McLaughlin
BBC Sport
Last updated on .From the section Football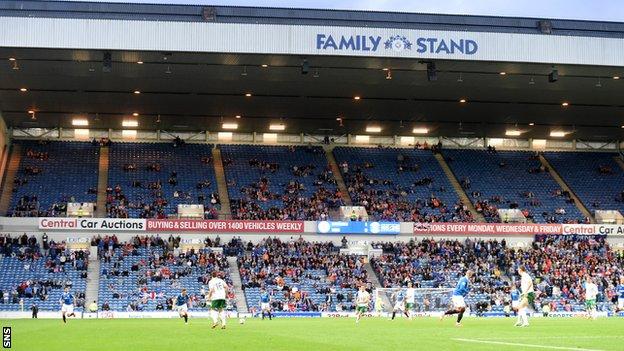 Rangers are facing a fresh financial crisis after failing to convince city investors to sign up to a new share issue, BBC Sport has learned.
The club issued a document to potential and existing investors with a view to raising up to £10m through an investment plan by the end of August.
However, they have so far failed to get the uptake they were looking for.
And the Championship club says it now hopes to launch a £4m issue via all existing shareholders.
"The company is considering a possible equity issue in which all existing shareholders would be eligible to participate," read a statement to the Stock Exchange.
"Support is being sought from institutional investors to underwrite the possible equity issue. Discussions are ongoing and there can be no certainty of the outcome of these discussions."
Prior to the announcement of a scaled down share issue, potential city investors were being asked to buy in at around 25p per share - the current price is around 30p a share.
The presentation document, aimed at selling a stake in Rangers, highlights plans for the club to be financially sustainable by the end of season 2015-2016 through restructuring the business in a strategic three-year plan.
The paper also mentions "the significant revenue opportunity" that would come with the club being back at the top of Scottish football, and points towards potential revenue streams that would follow from competing in the Champions League.
A timetable of events within the document promises to reveal details on 25 July - but that deadline has now passed due to the lack of interest.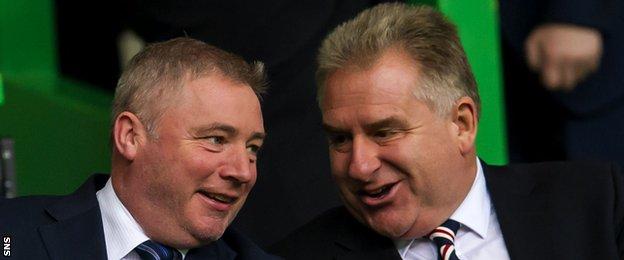 As part of his 120-day review published in April, chief executive Graham Wallace said he would look at a new rights issue later in the year "when the climate will be better for us".
The club's finances have been under the spotlight for some time and earlier this year the club secured short-term loans totalling £1.5m from shareholders Sandy Easdale and George Letham.
Those loans must be paid back by the end of August but questions are now being asked about the club's ability to meet that deadline.
The situation is reaching a critical stage as fans continue to vote with their feet and their wallets.
Supporters remain split over their backing of the board and it is understood less than 20,000 season tickets have been sold, compared to the 38,000 sold last year - figures that are adding further strain on finances.