Nicky Butt: Salford City must 'reach for the stars'
Last updated on .From the section Man Utd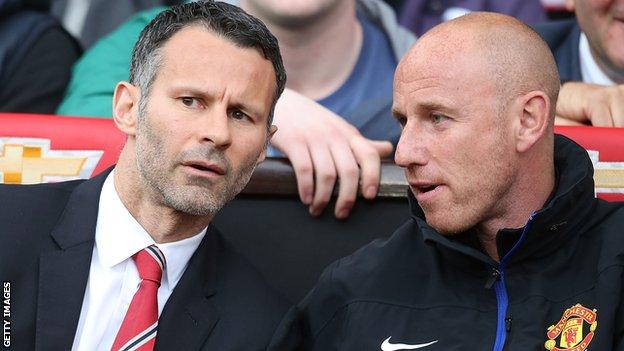 Nicky Butt wants Salford City to "reach for the stars" as they prepare for a new era under the control of Manchester United's 'Class of 92'.
Butt, who is to remain at Old Trafford in a "wider role", said: "We need to get into the Football League.
"Once we are there we can reach for the stars."
Butt - and his famous former team-mates - helped attract a stadium record attendance of 11,000 to the AJ Bell Stadium as they turned out for a 'Class of 92' side in a 5-1 defeat against their own club.
Salford City start their new era against Scarborough on 16 August.
Given they are presently in the eighth tier of the English football pyramid, it will take a long time to achieve the aim of Football League status.
In the meantime, Butt and his friends want to provide opportunities for local youngsters such as the ones they benefited from.

Not that the former England midfielder thinks it will be easy for anyone to replicate the success they enjoyed given how much the footballing landscape has changed.
"We were at a club and had a manager that believed in giving young people a chance," said Butt.
"It is harder now with the immediacy of it all. Everyone wants things instantly."
For Butt, the consequence is that managers spend less time working on any aspect of a club below first-team level.
"Why should they go looking at academies four or five nights when nine times out of 10 they are not going to be there to see the rewards - they will be leaving it to someone else."
It is why Butt has yet to branch out on his own managerial career, even though, like Giggs, he has taken his coaching badges.
Instead, he has accepted an offer to remain at Old Trafford following the arrival of Louis van Gaal, although it won't be in his former role of assistant to Under-21 boss Warren Joyce.
"It is a bit of a wider remit now," he said. "I am more looking over all age groups.
"It needs to be finalised in the next few weeks but, yes, I am [definitely staying on]."