Dougie Freedman: Bolton manager backs 'rough diamonds'
Last updated on .From the section Bolton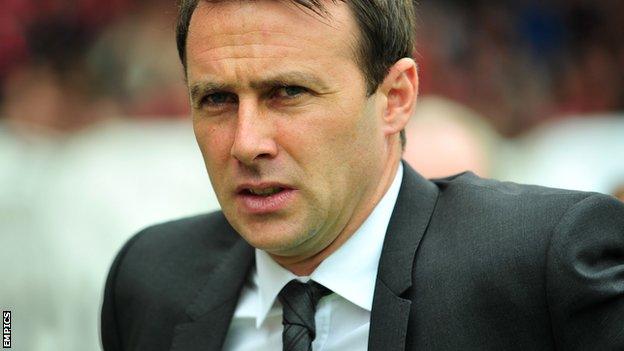 Bolton manager Dougie Freedman has admitted that money problems have limited the amount of new signings he could make.
Bolton finished 14th in last season's Championship and Freedman conceded at the time that he would need to reduce his playing budget.
Freedman has asked fans to be patient and support his "rough diamonds".
He told BBC Radio Manchester: "I believe there's quality out there and I will wait until it is available."
The 40-year-old Scot continued: "To explain to the fans, I can go out tomorrow morning and sign certain strikers that are in the market, but I don't think they're the right type of players.
"I think the Bolton fans are thinking we're going to stick together and we're going to get behind the team."
Freedman on fan support
"We are a little bit short of numbers and I know the fans are thinking we're going to sign but I would rather have the attitude that I would like to understand where we are, cash isn't key right now for us so we can't go and win the market, we need to wait until something comes up."
Bolton have signed many of the players they had on loan last season on permanent contracts, including midfielders Liam Trotter, Liam Feeney and Neil Danns.
Midfielder Jay Spearing will also take over as captain after Zat Knight was released at the end of last season.
"The simple facts are, and everybody knows, that we're not flush with money right now," Freedman added.
"There's a little money in the pot but it's not the sort of money where I can go out and spend £5m on a striker like other teams can.
"I have to have and share the attitude that whoever will be coming in will be the best signing for the football club."