Man Utd: Phillip Neville defends former manager David Moyes
Last updated on .From the section Football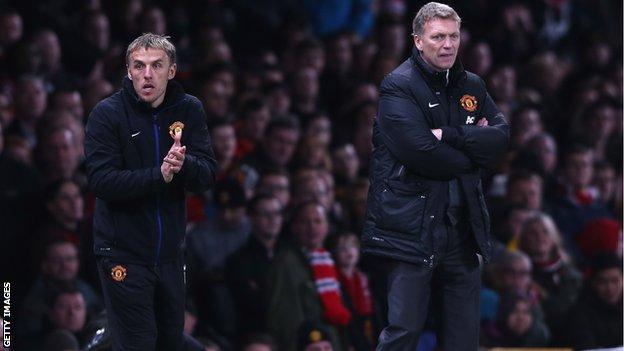 Louis van Gaal faces an "easier task" as Manchester United manager than David Moyes, according to Phillip Neville.
Moyes lasted just 10 months in the role after succeeding Sir Alex Ferguson last year but Neville feels his former boss at Everton faced an "impossible job".
"I have had sleepless nights thinking about what happened," said Neville, who was part of Moyes' coaching team but will not work under Van Gaal.
"There is part of me thinks it was an impossible job to follow Sir Alex."
Match of the Day pundit Neville described last season as a "complete failure" at Old Trafford, after finishing seventh in the Premier League and failing to win a cup competition.
But he said it was wrong to lay the blame entirely at Moyes' door and feels a "collective responsibility throughout the whole club" should have been adopted.
"Louis van Gaal has an easier task following the man that followed Sir Alex Ferguson because there was a massive transition going on," Neville told the BBC.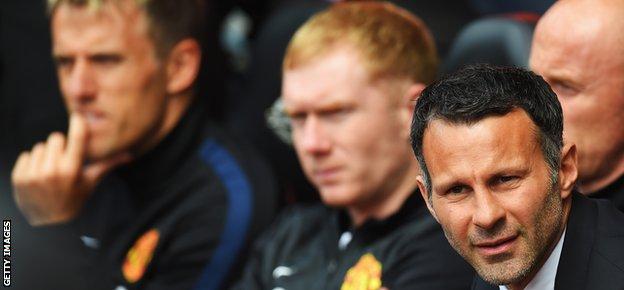 "There was a lot of older players coming to the end of their careers. Having just won the league by 11 points it would have been an impossible job to go in and rip everything up. It was a massive job.
"You have 26 years of one man. One man comes in and changes it a little bit and it creates a feeling around the place. It was a really difficult job."
Former England defender Neville made 386 appearances for United between 1995 to 2005 before turning out over 300 times for Everton under Moyes.
After retiring, Neville was recruited by Moyes as part of his new backroom team at United but the experience soon turned sour.
"It was a disaster from my point of view," he said. "I wanted it to be a success more than anything.
"I had worked with David for eight years. I love Manchester United. I thought it was a perfect partnership.
"David Moyes is an outstanding manager. He will go on to be an outstanding manager for another club. It just didn't work out last season."