Rangers: Charles Green 'raising £10m' to invest in club

By Chris McLaughlin
BBC Sport
Last updated on .From the section Football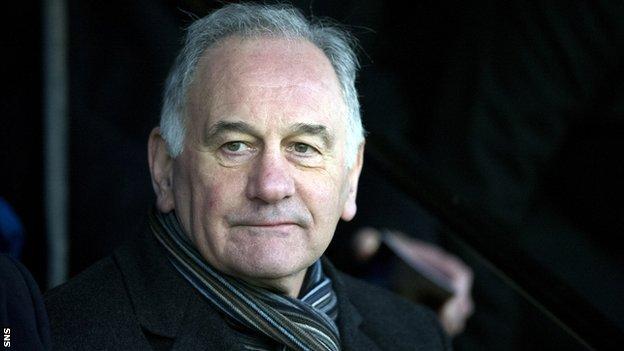 Former Rangers chief executive Charles Green has told BBC Sport he is close to raising up to £10m to invest in the Scottish Championship club.
Now Green claims he has investors ready to stabilise the club financially.
One of the interested parties is Soros Fund Management and it is believed the US-based group have held talks with a senior Rangers official.
| Green at Rangers | |
| --- | --- |
| Bought club's assets in 2012 following administration | Left club following allegations of dealings with Craig Whyte |
| Took on role as chief executive | Investigations cleared Green of wrongdoing |
| Raised £22m through share issue in late 2012 | Returned briefly to club as consultant |
One fans group has already made its opposition clear to any involvement from Green.
The Union of Fans say they would call for a complete "boycott" if any fresh interest from Green was followed up.
"I've got a number of people ready to invest in Rangers," Green told the BBC.
"I've told people this is a great club and a great opportunity. It's one of the world's biggest brands in terms of football.
"I don't want to go back to Rangers, I left unhappy last year and know it wouldn't be right to go back. However, to see where the club is now is a disaster."
The news comes after the announcement earlier this week that Rangers are looking to raise £4m through a new share issue.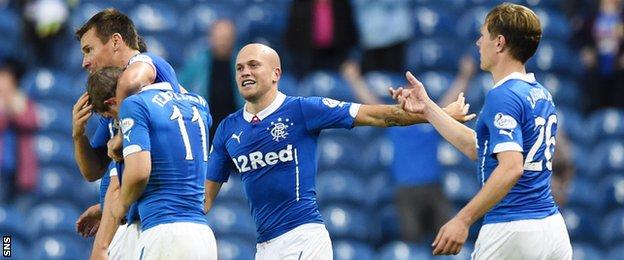 That notice came after Rangers were unsuccessful in raising £10m from city investors.
A Green-led consortium bought Rangers' assets in 2012 - the same year the club was placed in the lowest tier of the Scottish league set-up following financial problems - and he held the post of chief executive until April 2013.
He returned briefly as a consultant and indicated in June that he was launching a new bid to take control of Rangers.
"Why Charles Green? I'm not applying to be the Messiah but I won't let the club continue to slide and become a laughing stock," explained Green.
"What I'm saying is if someone else can raise the money then great - if not, I'll do it.
"I've made loads of mistakes. I'm not saying I'm a good guy but I'm certainly not the worst guy," he added.
"I wouldn't be involved at executive level or operationally but if I bring investors in, they'll want some kind of representation on the board. That could be me or someone else."
And, on possible opposition from fans, he added: "Raising cash is what I do.
"It's what I've done for 30 years and it's all I do. What is important is that the club is saved. If the club doesn't raise cash then it won't be able to continue to trade.
"If some fans would rather the club goes back into administration then they are not real fans.
"Sit and wait and see what happens - if I don't raise the cash then that's it but if I do the club will be stronger.
Green is confident that Rangers will get back to the Scottish Premiership, and he said that when they do, they need to be competitive.
"When they get there no-one wants to see them weak and humiliated," he continued.
"Fans need to unite. One week it's the Sons of Struth and then the Union of Fans - there is no union of fans.
"I'd love to see all the fans unite and hate me - at least then they'd be united. It's a disjointed fan base and someone needs to stand up and say it how it is."