Cesc Fabregas: Is Arsenal and Barcelona's loss Chelsea's gain?
By Mandeep Sanghera
BBC Sport
Last updated on .From the section Football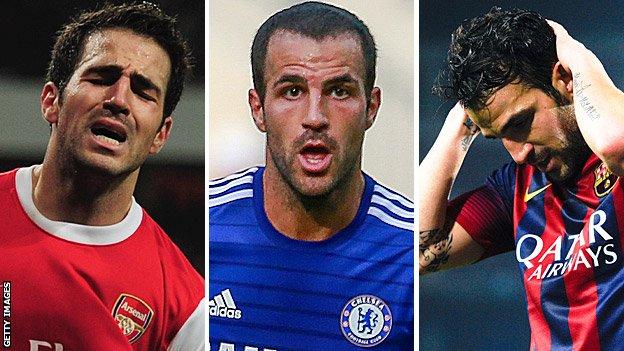 Chelsea manager Jose Mourinho was left purring at the performance of Cesc Fabregas in Monday's win over Burnley, calling him a "maestro".
In his Premier League debut for the club, the midfielder had a hand in all three goals in a 3-1 victory and made the kind of impact that reinforced Mourinho's view of what the Spaniard will bring to his team.
In pre-season, Mourinho described Fabregas as "the missing piece of our engine", and said he was delighted to attract the sort of "football brain" his side lacked. His new team-mates thought Fabregas "sees football too fast", he added.
Cesc Fabregas v Burnley
The Spaniard had 106 touches, 18 more than any other player. He also made the most passes (89), with an 87.6% success rate, and two assists.
The backing of his new manager will have been music to Fabregas's ears after a difficult summer.
His much-anticipated 2011 homecoming to Barcelona, where he had come through the famous La Masia academy before leaving for Arsenal as a 16-year-old, had turned sour.
Neither party showed much appetite to continue their relationship, and he became a target for a section of Barca's fans towards the end of a campaign they ended without a major trophy.
It looked like a return to Arsenal was on the cards but his former club declined to take up first option on him. Meanwhile, he played just 34 minutes at the World Cup as Spain's defence ended with defeat in their opening two games.
Cesc Fabregas factfile
Born Spain, May 1987.
Joined Arsenal from Barcelona as a 16-year-old in 2003.
Scored 57 goals in 303 games for the Gunners, and won the 2005 FA Cup.
Joined Barcelona in 2011, scoring 35 goals in 129 appearances.
Helped Barcelona win La Liga in 2013 and Copa del Rey in 2012.
13 goals in 89 appearances for Spain, including winning the 2010 World Cup and 2012 European Championship
Discarded by Barcelona, rejected by Arsenal and shunned by Spain, Fabregas must have been relieved when Chelsea came to his rescue as they pounced to sign him for a fee believed to be in the region of £30m.
Why did it not work out for him at Barcelona?
"It certainly didn't go to plan," said BBC Sport's Spanish football writer Andy West. "Although he played 96 league games in three seasons, he never fully established himself as a first-team regular.
"When the big games came around, there was always a question mark over whether he'd be picked.
"It didn't help his cause that his role changed - he generally had to fit in wherever there was a space rather than claiming a place of his own.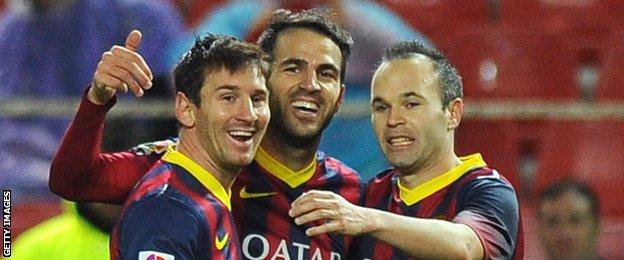 "Sometimes he played centre midfield instead of Xavi, sometimes left midfield instead of Andres Iniesta, sometimes as the 'false nine' instead of Lionel Messi, but he never really 'owned' a position.
"In those circumstances it was difficult for him to achieve consistency or continuity. It always felt like he wasn't completely trusted either by his coaches or the fans."
Fabregas still managed an impressive 28 goals and 32 assists for the Catalans, although that was not enough to quieten his critics.
"He was whistled at, rather than booed. When the team played poorly, he or Alexis Sanchez, who has joined Arsenal, would be the first ones the crowd jumped on," added West.
"It didn't help that he left as a teenager and then cost a lot of money to bring back."
Barcelona forward Pedro on Fabregas's exit
"Everybody knows Cesc is a great player, one of the best in his position in the world. It's a shame for me because obviously as a striker, he is a guy who can provide you with very good passes. As a friend, we've got a very good relationship and I'm going to miss him a lot. Chelsea have built a very good team and with Cesc as well, they're going to be very difficult to beat in the Champions League."
The Champions League eluded Fabregas in his time at the Nou Camp but he won the Copa del Rey and Fifa Club World Cup in his first season back and the Spanish league title the next.
Why did Arsenal not sign Fabregas?
The Gunners' decision not to take up a buy-back option on Fabregas certainly does not appear to be because manager Arsene Wenger thinks the player he signed back in September 2003 is below the standard required.
"When Fabregas first came to Arsenal I remember Wenger pulling me over to come and watch this young kid because of the simplicity in his game, which was quite unique really," recalled former Arsenal defender Martin Keown.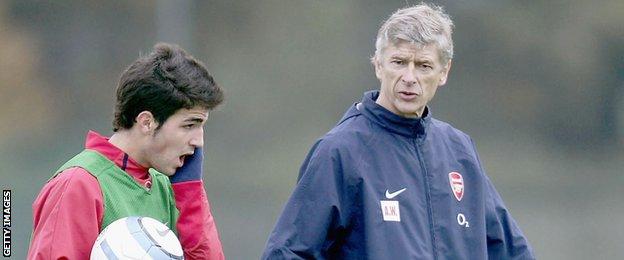 "He could see a pass, while his vision and technique was all top drawer from a really young age. I had rarely seen Wenger so excited about a player.
"I'm surprised it did not work out better for him at Barcelona because I expected him to be there for 10 years."
Fabregas became Arsenal's youngest ever first-team player when he made his debut aged 16 years and 177 days in a League Cup game against Rotherham in October 2003.
However, in 305 appearances for the Gunners over eight seasons he won a solitary FA Cup.
"All the players of that time were a victim of the manager being quite stringent with getting the economics right at the club," continued Keown.
"Now, of course, they can spend big money but they couldn't then and Arsenal were losing players every season."
Cesc Fabregas in numbers in league football

Season

Club

Appearances

Goals

Assists

2004-05

Arsenal

33

2

5

2005-06

Arsenal

35

3

5

2006-07

Arsenal

38

2

11

2007-08

Arsenal

32

7

17

2008-09

Arsenal

22

3

8

2009-10

Arsenal

27

15

13

2010-11

Arsenal

25

3

11

Total

212

35

70

2011-12

Barcelona

28

9

8

2012-13

Barcelona

32

11

11

2013-14

Barcelona

36

8

13

Total

96

28

32
Fabregas scored 35 times and set up 70 goals in 212 top-flight appearances for the north London side, but Arsenal instead signed Alexis Sanchez from Barcelona for £35m to bolster a squad overflowing with attack-minded midfield players like Mesut Ozil, Aaron Ramsey, Tomas Rosicky, Santi Cazorla and Jack Wilshere.
"Wenger didn't take up the option to sign him because he has an abundance of talent already in those areas," added Keown.
"I feel now that Ramsey is the new Fabregas and you are going to block the career of other players if you sign him. It is somebody else's turn now and Fabregas would have understood that."
Another former Arsenal player John Hartson believes that Wenger did not want to disrupt the development of his younger players at the expense of bringing back Fabregas.
"Ramsey and Fabregas are similar players. They are both very attack-minded, they get forward and score goals," Hartson told BBC Radio 5 live.
"If you are going to spend £30m on Fabregas and give him the astronomical wages that he can command, doesn't that mean that he has to leave either Wilshere or Ramsey out? Every week he would have to leave a big player out and he didn't want to do that."
Is Arsenal and Barcelona's loss Chelsea's gain?
Barcelona centre-back Gerard Pique felt his close friend and international team-mate was under-appreciated at the Nou Camp.
"I really like Cesc and I know he is going through a tough time because the club don't appreciate him as much as they should," he said before Fabregas joined Chelsea.
"He is one of those players who would be first choice at any other club in the world, the star of the team."
If Fabregas felt unwanted and unloved at Barcelona, that is not the case under Mourinho. The Portuguese saw the player at close quarters from the opposition dugout in his first stint at Chelsea and more recently at Real Madrid, and called him the "future" of the west London club.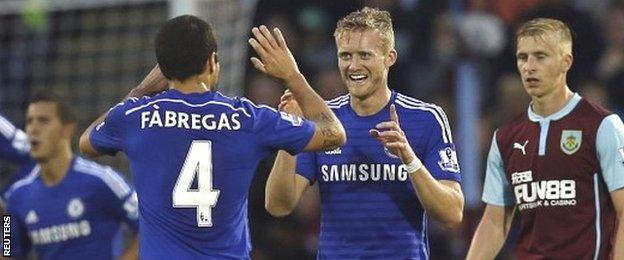 "It may well be that he was not good enough for Barca and their specific style at the time, but Jose Mourinho sees beyond that," said ex-Chelsea winger Pat Nevin.
"I don't know how it is going to work out but he has got a massive advantage in that he has played in the English league before.
"He is also joining a team that looks incredibly strong, not only in skill, but also in physicality.
"The latter quality will develop a lot of space in the areas Fabregas wants and, with good space, he will certainly create."
Fabregas did just that against Burnley and, although tougher tests await, his promising start suggests he will be a key component in Chelsea's pursuit of honours.
"I think Mourinho likes players who have a point to prove," added Keown. "It is intriguing to see whether Cesc can pull it off.
"Mourinho is a manager with whom you get the impression there is no time to lose - it is now or never. That focus may just take him to a new level."