Hearts are moving at a quicker pace than Rangers

By Tom English at Ibrox
BBC Scotland
Last updated on .From the section Scottish Championship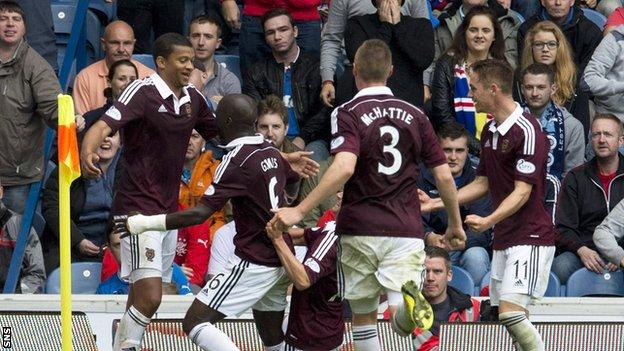 Hearts people normally can't get away from Ibrox fast enough, but this was different, oh so different. Their giddy masses were held back in the aftermath, as is the custom, but they didn't look like they were in any rush to leave in any case.
The winner was a delight and a contradiction to much of what went before. This was a game with plenty of edge and a bucket of bookings. There was a narkiness about it that always made it interesting but rarely made it pretty on the eye.
Until Hearts struck out for the winner, that is.
Osman Sow's goal was all about ambition and clinical finishing - qualities that the game lacked in the main. We had ninety minutes of toil and aggravation and missed opportunities, the best of them falling to Rangers.
Then we had six minutes of extra-time, with drama and goals.
What will excite the Hearts supporters is the feeling that their team didn't pull up any trees with their play and yet still found a way to win. That fact will also serve as a kick to the solar plexus of their counterparts in blue.
They lost to a side who were no great shakes on the day. They didn't have the ability to win and they didn't even have the composure to hold on for a draw.
That's a sobering thought for Rangers folk. Not a surprise, surely. But another addition to the worry mountain at Ibrox.
It was a bizarre day, from start to finish. A day when four former Hearts players started for Rangers and when two former Rangers goalkeepers saw action for Hearts.
A day when Danny Wilson, once considered the brightest young thing in the Ibrox firmament, didn't just score for the visitors but played with an authority in central defence that his old team still lack.
The hero of the hour was not one of the two proven goalscorers on the pitch - the hard-working Kenny Miller and the frustrated Kris Boyd - but the little known Sow, a summer recruit making a fine competitive debut in the backyard of the favourites for the title.
Rangers are indeed favourites - or they were. Maybe the bookmakers over-estimate them.
We look at Miller and Boyd and assume they will score goals in vast numbers in this division. But when you look again you wonder how are they going to score the goals to make them champions if the quality and speed of service was as skewed and as pedestrian as it was in this game.
It is early days, of course. But these are old complaints. Rangers' speed of thought in midfield remains ponderous and the delivery to their front men is predictable and easily defended.
Time and again Boyd called for the tempo to quicken in midfield and in the rare times it did, it didn't last long and was only fleetingly accompanied by precision. This was a joyless day for Boyd and Miller.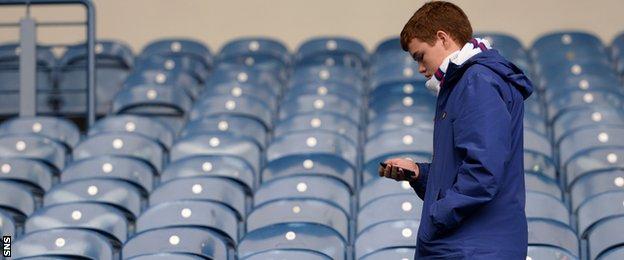 You wouldn't make snap judgements based on one afternoon, but there were boos for Rangers at the end and the response from the home crowd is not a good omen for Ally McCoist. It's not the first time that jeering has been the mood music at Ibrox and not the first time either that Rangers fans who loved McCoist dearly as a player have been driven to criticising him as a manager.
Hearts didn't wow us with their performance, but they were value for their win. They have reworked their team in these post-administration days and have brought in experience - Neil Alexander, Morgaro Gomis and Prince Buaben - and youth - Sow is 24, Alim Ozturk is 21, James Keatings is 22.
The mantra, as espoused by Robbie Neilson, is to get the ball down and play, but they are not a bunch of wide-eyed innocents. Gomis and Buaben are a midfield two who have been around the block and will be prepared for any attrition this league wants to visit upon them.
At times, this game got testy and Hearts were in the vanguard on that front.
With his appetite for contact, Sow drove Lee McCulloch round the twist on occasion. All over the field there were Jambos happy to get stuck in. Happy to noise-up Rangers with their physicality.
Neilson substituted Jordan McGhee for fear that he was going to get himself sent-off. He brought on Brad McKay in his place and within seconds McKay got himself booked.
That was the way of it. No backward step. Not pretty, but ultimately effective.
And in those closing seconds we saw the vision of what Hearts want to be under Neilson. The swift response to a shock equaliser from Nicky Law. The ability to strike at Rangers' weakest point. And the skill to execute the chance once it was created.
Hearts looked to have moved well beyond the trauma of recent times. It could be a while before we get to say the same thing about Rangers.
With McCoist having to explain away a wounding loss while also fielding questions about Charles Green's latest eruption, there is still an overpowering sense here of a club running to stand still.