FA Cup: The manager who built his team's stadium
Last updated on .From the section Football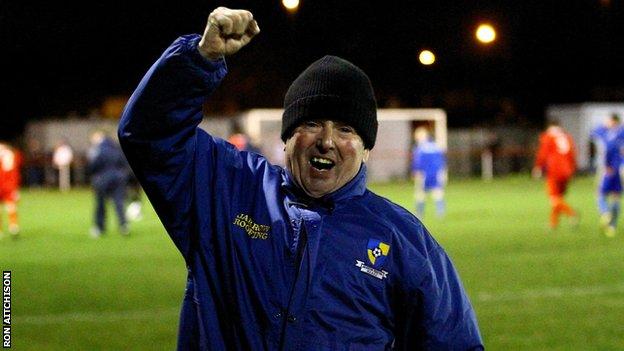 When the first steps on the long road towards the FA Cup final are taken this weekend, there will be few people busier than Richie McLoughlin.
The larger-than-life character from England's north east will take his place in the Jarrow Roofing Boldon Community Association FC dugout on Saturday as his side take on Eccleshill United in the FA Cup extra preliminary round.
It is a familiar dugout, and not just because McLoughlin has leaned against it for the last 27 years.
It is familiar because he built it. He also built the stands, the clubhouse and the dressing rooms.
For McLoughlin is not just Jarrow Roofing's manager, but also the club's founder.
He is the chairman, too, as well as treasurer, main sponsor, groundsman, chief scout and general repairman.

In fact, there is very little he doesn't do.
"My wife, Jan, runs the tea hut and does all the painting," says McLoughlin. "But otherwise anything that needs doing, I'll do it. I really enjoy it still, even after all these years.
"And the good thing is I can't be sacked, because I don't have anyone to sack me."
McLoughlin jokes, but it is clear Jarrow Roofing is a labour of love.
The club's story began in 1987, when McLoughlin - whose time as a Sunday League footballer was coming to an end - and close friend Brian Marshall mulled over the possibility of embarking on a project: building a new club from the ground up and steering them through the leagues.
An abandoned bowling green, overgrown with bushes and wild grass, at the local community sports club caught the eye and McLoughlin set about turning it into a useable football pitch.

"The mining pits in South Shields had just finished being used and we got quite a bit of scrap from them," recalls McLaughlin.
"We put up fences around what would be the pitch and then, one Easter Bank Holiday, I hired a digger and a big wagon and ripped all the ground up where it had all become overgrown.
"I had my own roofing company so when I stripped old roofs for jobs, the steelwork was still in pretty good shape and I would use all that to build the stands."
Those were the easy bits. Floodlights, necessary for Jarrow Roofing to be able to compete in the local leagues, proved a little trickier.
"There were some big poles in the pits and we used them," McLoughlin says.
"But it was tough work getting them out of there because they were so long, and then trying to put things up at height was not an easy task."

Since entering the South Tyne Senior League for the 1987-88 season, Jarrow Roofing's rise through the leagues has been impressive.
In less than 10 years, they climbed from the very bottom of English football to the Northern League First Division - five divisions below the Football League.
In 2005, they came within touching distance of an appearance in the FA Vase final, losing 2-0 on aggregate in the semi-finals against eventual winners Didcot Town.
The home leg of that tie was watched by 1,100 spectators - the most to have packed into Jarrow Roofing's 2,000-capacity ground and a far cry from the handful of friends and family who would watch in 1987.
It was a historic moment for McLoughlin, who already had a claim on another record: he believes he is the oldest footballer to play in the FA Cup.
We're on the way to Wembley... via Mars
Jarrow Roofing media manager Andy Hudson:
Our FA Cup journey last year began with a group of players and committee members huddled in the car park of a social club. A trip down the A1, a stop at Wetherby Services and we were in Yorkshire for our game against Glasshoughton Welfare. Roofing won 3-1 and, after a couple of pints, man-of-the-match Ian Dixon shirked his media duties by dodging out of the ground and returning just as the players were boarding the bus - with a massive Chinese takeaway.
A quick stop at a local shop for a few beers and we were on our way, with one player's dance music blasting out, making it seem like we were travelling to Mars. Not because of any 'freak-on' but more because it makes the journey up the A1 more like an endurance test.
"We really need to find somewhere, to stop for a toilet break," comes a voice from the back. "Hey, I'm not going by the side of a road," shouts female physiotherapist Shaunagh Lillie. "We wait until Scotch Corner services."
"I would have been nearly 50, so I reckon that makes me the oldest," he says of his appearance in the preliminary round against Bootle in 1999.
"I played the full 90 minutes, but most of the time I'd just go on when everybody was tired and make myself look good."
His boots have since been hung up but McLoughlin, who keeps his exact age a closely guarded secret, shows no sign of slowing down when it comes to matters off the pitch.
"I get up and seed the pitch at half past four in the morning for a couple of hours and get a bit of fertilizer down, before heading off to pick up a couple of the lads and get into work for seven," he says.
"Once I'm finished for the day - around seven in the evening - I'll get back down to the ground and finish off a couple of jobs.
"There is always something to be done, a little repair work, a bit of scouting or preparing for an upcoming game."

At least match days offer McLoughlin the chance of a lie in. He gets up at seven.
"I'll get down to the ground first thing to see if the pitch is OK and have a wander around and check the stands.
"Then I'll go back home and sort out the team - what formation we will be playing and that sort of thing - while my wife gets things ready for the tea hut."
After that it is back to the club, where he greets the first of the arriving fans and officials from the other team, before focusing on his own side.
"All the chairmen from the other clubs know me now, but I'll pop into the bar and have a chat before going off to the dressing room," he says.
"I don't do it as much now, but at half-time I'd pop to the bar and make sure everyone was sorted for a cup of tea.
"It is so easy on a match day to forget to sort someone's tea out when you have to be watching the game as well."
It is a routine McLoughlin will repeat for this weekend's FA Cup tie.
The competition, the oldest of its type in football, is sometimes said to have lost its magic, but that is far from the case for Jarrow Roofing and the 367 other teams taking part in the first stage of the this year's tournament.
"It is massive for clubs at our level and helps us out a lot," McLoughlin says.

"One year, we got through a couple of rounds and got £10,000. It sorted us out for the season. It can be a chance to make a name for yourself if you do something special, even at this stage."
It can be easy to dismiss clubs at Jarrow Roofing's level as being amateur in all aspects - overweight and middle-aged players who head straight to the bar after the final whistle. But Jarrow Roofing's set-up is impressively professional.
McLoughlin has recently employed a media team, which includes a reporter and club photographer. They have a website that would not look out of place in the Football League, their own online television channel and a dedicated Twitter feed.
It is all impressively slick, but there is one stereotype that remains.
"The number one thing post-match, the most important thing, is for us to get straight in the bar and have a few pints," says McLoughlin. "After a game I am ready for a drink."
Does your club have an interesting FA Cup story to tell? Let us know on social media using #myfacupstory