Chelsea: Cesc Fabregas is the future, says Jose Mourinho
Last updated on .From the section Chelsea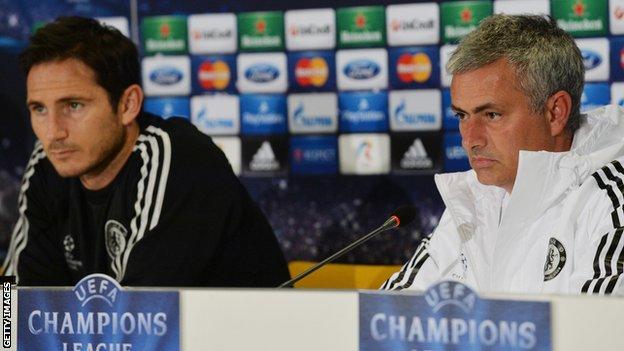 Chelsea manager Jose Mourinho says his club have moved on from the exit of Frank Lampard by signing Cesc Fabregas.
"Frank is the history of the club, history nobody can forget," said Mourinho.
"Fabregas is the future; history is history but the future is more important at the moment."
Lampard signed for Major League Soccer side New York City in the summer but returned to the Premier League by signing for Chelsea's rivals Manchester City on loan until January.
He spent 13 years at Stamford Bridge and is the club's all-time leading scorer with 211 goals but could face Chelsea when City play them in the top flight on 21 September.
Mourinho added: "My opinion, and the opinion of my players, is that Fabregas is the right player to occupy that central position in midfield."
Meanwhile, striker Didier Drogba has revealed he twisted his ankle when being forced off through injury in the first half of Sunday's friendly defeat of Ferencvaros.
He told the club website: "I twisted my ankle and I couldn't continue. In the next few days we are going to do some treatment and I hope everything will be better."