Guernsey FC not ruthless enough, says boss Tony Vance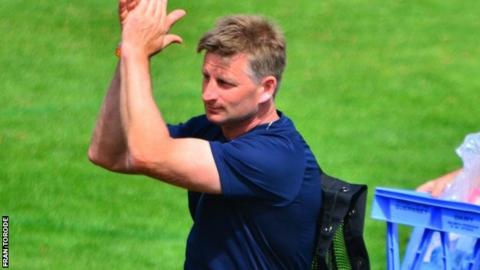 Guernsey FC boss Tony Vance says his side were not ruthless enough in their 3-1 defeat at Chipstead in their opening game of the Isthmian League Division One South season.
Dominic Heaume gave the Green Lions an first half lead before a brace from Kofi Quarty and one from Dan Moody won it for Chipstead in the second half.
"That's three points thrown away." Vance told BBC Radio Guernsey.
"As bad as the second half was, we should have put them away first half."
Vance added: "In the first half we were incredibly dominant and not ruthless enough and that was pretty much the reason we were in the situation we were in.
"For all the good football we played in the first half, which they had no answer to, we got into the box at least 20 times in the first half and had three shots.
"But people were trying to score the perfect goal and walk things in when the game should have been out of sight.
"It was a crime that it was only 1-0 at half time and we deserved to lose because of that."
Guernsey will hope to make up for the loss when they host Whyteleafe in their first match at Footes Lane this season on Wednesday.