Togo want Guinea match relocated over Ebola fears
Last updated on .From the section Football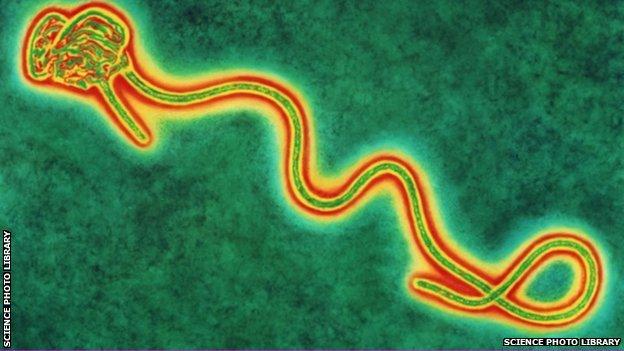 Togo want next month's Africa Cup of Nations game in Guinea to be moved because of fears about the Ebola virus.
The match, the responsibility of the Confederation of African Football, is scheduled for 5 or 6 September and is in the first group round of qualifiers.
More than 300 people have died from Ebola in Guinea, the origin of the outbreak which is also now centred on neighbouring Liberia and Sierra Leone.
"We are scared by the situation," the Togo Football Federation (TFF) said.
The TFF said it would follow advice from its government, which would likely prevent the party travelling to Guinea.
In recent weeks, countries around the world have advised their citizens not to travel to the affected countries and on Friday the World Health Organization (WHO) said the spread of the virus was a global health emergency.
Nations Cup qualifiers involving Sierra Leone are already under scrutiny after the country said it would not host any football matches until further notice because of Ebola.
BBC Sport has learned Sierra Leone wants to play its home matches in Ghana and has made a request to the country's football association.
Ghana FA spokesman Ibrahim Sane told BBC Sport: "We have asked the Sierra Leone Football Association to use the government to contact our foreign ministry and ministry of health for clearances."
The Confederation of African Football (Caf) has yet to rule on requests from Togo and Sierra Leone to move qualifying games away from Ebola-affected areas.
Even away games involving the Sierra Leone and Guinea teams could be problematic after the Seychelles prevented the Sierra Leone squad from entering its country last month because of fears they could bring in the virus, which has a mortality rate of around 60%.
After Seychelles authorities refused to let the Sierra Leone party in, the Seychelles Football Federation was forced to forfeit the game and its place in qualifying.
Sierra Leone are due to play Ivory Coast and Cameroon, as well as Congo, in the last round of qualifying, which runs from early September to mid-November. Guinea have been drawn in a group with Ghana, Togo and Uganda.
The qualifying competition will decide the 15 teams to join host Morocco at the Nations Cup finals in January and February.