Carlo Tavecchio elected president of Italian Football Federation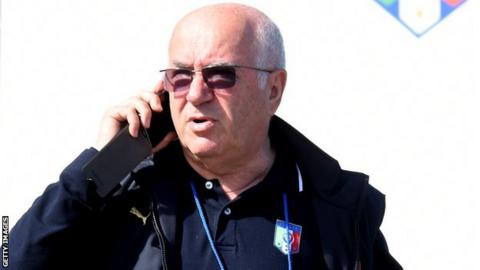 Carlo Tavecchio has been elected as the new president of the Italian Football Federation (FIGC).
The 71-year-old caused controversy during his election campaign after making a racist comment about some players being "banana eaters".
Tavecchio beat former AC Milan player Demetrio Albertini in the vote.
"I will be a president for everybody, and especially for those who have legitimately expressed their dissent about me taking the job," he said.
Voting for the election of president of the Italian Football Federation
First round (75% of vote needed for election)
Tavecchio 60.2%
Albertini 35.46%
Second round (66% of vote needed for election)
Tavecchio 63.18%
Albertini 34.07%
Third round (50% +1 of vote needed for election)
Tavecchio 63.63%
Albertini 33.95%
Tavecchio secured 63.63% of the vote in the third round of polling, compared to rival Albertini's 33.95%.
He replaces Giancarlo Abete, who resigned along with national team coach Cesare Prandelli in June after the Azzurri failed to qualify for the knockout stages of the World Cup in Brazil.
The voting delegation comprised 278 representatives from Serie A, Serie B, the Lega Pro, the Amateur League, the Players' Association, the Coaches' Association and the Referees' Association.
The Lega Pro, which represents 60 third and fourth division teams, last week said nearly all of its members would back Tavecchio, who had been vice-president of the FIGC since 2009.
One of Tavecchio's first duties will be to help choose the successor to Prandelli as Italy national team coach, with former Juventus boss Antonio Conte the current front-runner for the role.