Celtic: Legia Warsaw's Champions League appeal bid fails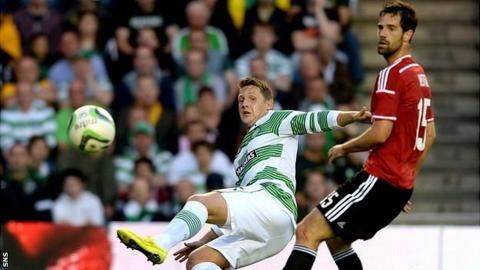 Legia Warsaw's appeal against the punishment that cost them their Champions League place and reinstated Celtic has been dismissed by Uefa.
The Polish club were sanctioned for fielding a suspended player in their third qualifying round tie with Celtic.
The Scottish champions were then drawn to face Maribor in the play-off round, with Legia consigned to a Europa League tie with Aktobe of Kazakhstan.
Legia intend to take their case to the Court of Arbitration for Sport (CaS).
"The appeal lodged by the Polish club was rejected and, therefore, the original decision of the Uefa Control, Ethics and Disciplinary Body is confirmed," read a statement from European football's governing body.
And Celtic responded: "For our part, we can only proceed on the basis of Uefa's decisions and the fixtures announced by them and, therefore, we must now prepare for our match against NK Maribor next week."
Defender Bartosz Bereszynski was due to serve a three-match European ban at the start of this season and missed both legs of the Polish club's second qualifying round tie against St Patrick's Athletic, and the 4-1 first-leg victory over Celtic.
He came on as a substitute towards the end of Legia's 2-0 second-leg win at Murrayfield.
However, it emerged that Bereszynski had not been registered for the games against St Pats and therefore the matches did not count towards his suspension.
As a result, Celtic were handed a 3-0 'walkover' win for the second leg, taking them through on away goals.
Legia appealed on the basis of three separate Uefa regulations and made reference to "the objective and subjective aspects of the offence; in cases where all aspects of the offence have been revealed by the party charged and after taking into account both aggravating and mitigating circumstances".
They had hoped to have the punishment scaled down, nullified or suspended.
Responding to the latest judgement, Legia Warsaw chairman and majority shareholder Dariusz Mioduski told BBC Scotland: "Huge disappointment, procedures seem to be more important than football.
"We have a means to appeal and we will do that, beside that we need to look at the rules. It's time with us to work with Uefa to take a look at these rules as clearly they are not working."
Mioduski added that not having any contact from Celtic since the original punishment was "probably the biggest disappointment".
Uefa statement in full
"The UEFA Appeals Body met yesterday following an appeal by Legia Warszawa against the decision taken by the Uefa Control, Ethics and Disciplinary Body on 8 August."The appeal lodged by the Polish club was rejected and, therefore, the original decision of the Uefa Control, Ethics and Disciplinary Body is confirmed."The Control, Ethics and Disciplinary Body had sanctioned Legia for fielding a suspended player (Article 18 of the Regulations of the UEFA Champions League, 2014/15 competition, and Article 21 of the UEFA Disciplinary Regulations, 2014 edition) in the 2014-15 Uefa Champions League third qualifying round return leg against Celtic FC in Edinburgh on 6 August. That match has been declared as a forfeit, meaning Legia lost 3-0."
And he said in an official club statement: "Till the last moment we hoped that the spirit of sport wins, we find the decision extremely unfair.
"However we expected that decision and were prepared for it. We are to appeal to the Cas promptly. We will use the full appeal procedure, in order to get back our result that was fairly gained on the pitch.
"We will certainly fully subordinate to the final verdict. But I still hope that football will win, as well as the values it is based on: fair-play and respect to the on-the-pitch result."
Legia's board president Bogusław Lesnodorski added: "We hope that Cas will judge our case as soon as possible.
"We don't give up and keep fighting. Our lawyers are now working hard on the case, while the team prepares for the forthcoming matches. We aim high as always."
Celtic's Champions League play-off matches are due to take place on 20 and 26 August, with the first leg in Slovenia.
Legia's Europa League play-off with Aktobe will begin on 21 August, with the return leg in Poland a week later.