Luis Suarez: Ex-Liverpool striker 'accident waiting to happen'
Last updated on .From the section Football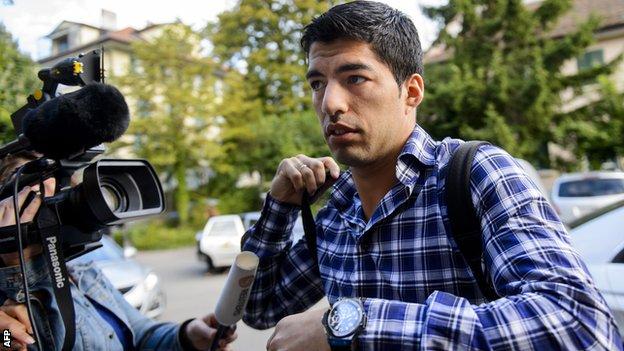 Luis Suarez is "an accident waiting to happen" and Liverpool were right to sell the striker, Premier League chief executive Richard Scudamore has said.
The Uruguay international is serving a four-month ban for biting Italy's Giorgio Chiellini at the World Cup.
The 27-year-old, who will discover the outcome of his appeal against that ban on Thursday, left Anfield to join Barcelona for £75m in the summer.
"I can't say that I'm sorry to see him go," Scudamore said.
Suarez was voted player of the year by both the Professional Footballers' Association and the Football Writers' Association last season after scoring 31 goals in 33 Premier League games for the Reds.
Scudamore, speaking at the official launch of the 2014-15 Premier League season, said: "At the end of the day, he's a great player and I'm not taking anything away from his talents.
Luis Suarez controversies
June 2014 - Banned for four months from any football-related activity, plus nine international matches, for biting Italy defender Giorgio Chiellini
April 2013 - Apologises for biting Chelsea defender Branislav Ivanovic and receives a 10-game ban
Dec 2011 - Given eight-match suspension and fined £40,000 for racially abusing Manchester United's Patrice Evra
Nov 2010 - Given seven-match ban for biting PSV Eindhoven's Otman Bakkal on the shoulder while playing for Ajax
"He was voted, by both his own players and the media last year, the player of the year. Deservedly so. Great to have, but an accident waiting to happen - you are always waiting for the next thing to come along.
"And this one, in the summer, although it was with Uruguay, although at the World Cup, although it didn't directly involve the Premier League - clearly, Liverpool, as one of our great clubs, it reflected on them and it reflected on us.
"It was good business on a number of levels for Liverpool to move Luis Suarez on."
Suarez was banned from "all football-related activity" for four months and suspended for nine international games for biting Chiellini.
He argued the terms of the ban were excessive and an appeal hearing took place at the Court of Arbitration for Sport last week.
The CAS verdict will be released at 14:00 BST on Thursday, with the detailed reasons for the decision published at a later date.
His legal team were expected to argue that he should be allowed to train with his new side during his suspension and that the ban should be limited to international football.
John Mehrzad, of the Law in Sport group, feels such an approach offers the best chance of success.
"In a nutshell, Suarez's best two grounds of appeal are: Fifa did not have the power to ban him from domestic club games; and/or a ban from "all football-related activity" for four months, or at all, is disproportionate.
"There is little doubt that Suarez's bite arguably impacts on the integrity of the game in a very broad-sense, but is it really materially different in seriousness to, say, a serious foul play, such a Zinedine Zidane's head-butt in the 2006 World Cup Final, which did not result in a worldwide ban?"
The ban handed down from world governing body Fifa was the longest in World Cup history.
Suarez apologised afterwards, despite initially claiming to have lost his balance.
He has previously been suspended for biting PSV Eindhoven midfielder Otman Bakkal and Chelsea defender Branislav Ivanovic.
He was also given an eight-match suspension and fined £40,000 for racially abusing Manchester United's Patrice Evra in 2011.