Kasper Schmeichel: Surname 'not a help', says Leicester keeper
Last updated on .From the section Football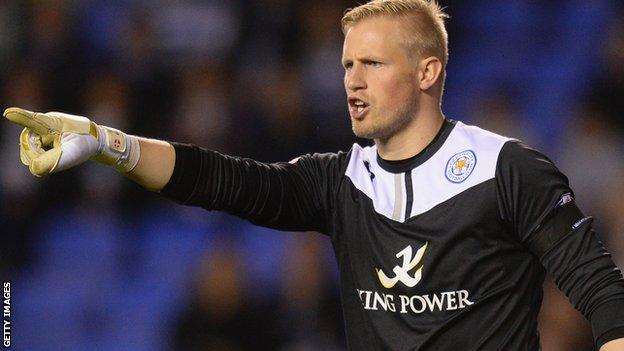 Leicester City goalkeeper Kasper Schmeichel admits it might have been easier to play a different sport to escape the trappings of his surname.
The 27-year-old is looking to step out of father Peter's shadow and enjoy his own Premier League success.
"The surname's definitely not been a help, that's for sure, but it's got no relevance to me at all," he said.
"That's my name, I've always fielded those questions from the media, but I just get on with it."
He added: "I think it would be easier to play a different sport."
Schmeichel returns to top-flight football this weekend five years after he left Manchester City.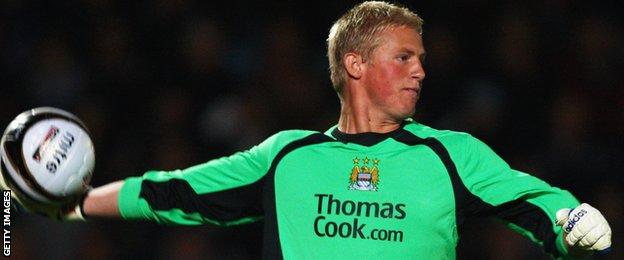 The Denmark international has got used to the inevitable comparisons with his father's career as a goalkeeper.
Peter won five Premier League titles and one Champions League during eight years at Manchester United between 1991 and 1999, and was part of Denmark's successful Euro '92 squad.
"My dad had a great career and if I could win a tenth of what he did in football, I'd be happy."
For now, the son is delighted to be back playing in the top division of English football.
He said: "It's great. Ever since I've been at Leicester, we've been working towards the Premier League.
Kasper Schmeichel's career
2004-2009:
Manchester City (including loan spells at Darlington, Bury, Falkirk, Cardiff City and Coventry)
2009-2010:
Notts County
2010-2011:
Leeds United
2011-present:
Leicester City
"Now, the hard work really starts. Regular Premier League games is something I've never experienced before, so that's what I'm personally looking forward to."
Schmeichel made just eight Premier League appearances in his time at Manchester City and fell out of favour as first-choice goalkeeper behind Joe Hart and Shay Given.
Spells at Notts County and Leeds United followed, before he signed for Leicester in 2011.
He played every minute of the Foxes' Championship title-winning campaign last season and signed a new four-year contract in June.
Schmeichel says having a clear number-one goalkeeper is the best way to promote stability, as Willy Caballero's arrival at former club City has left it unclear who manager Manuel Pellegrini will opt for between the Argentine international and England's Joe Hart.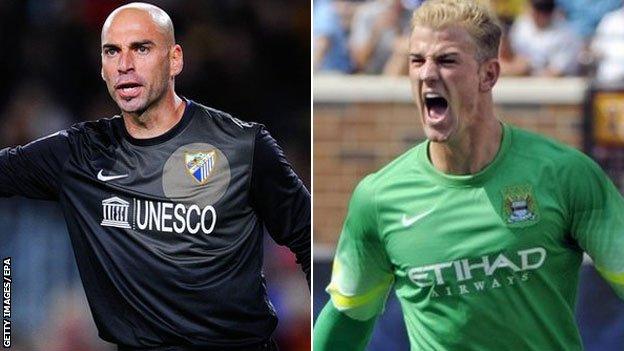 "I don't think it's healthy to have two number ones in the same squad," Schmeichel said.
"Absolutely no disrespect to Willy, I've seen him play for Malaga and he's a very good keeper.
"But, I've also worked with Joe Hart for a number of years and there's no question for me who's the better goalkeeper.
"You look at situations like Thibaut Courtois and Petr Cech at Chelsea, two of the best goalkeepers in the world at the same club, one of them's going to be unhappy.
"It's good when a manager names his goalkeeper and backs him. That's the sort of thing you want.
"You want to know you've got that backing and you're not one mistake away from getting dropped."