Caf orders relocation of matches from Sierra Leone and Guinea
Last updated on .From the section Football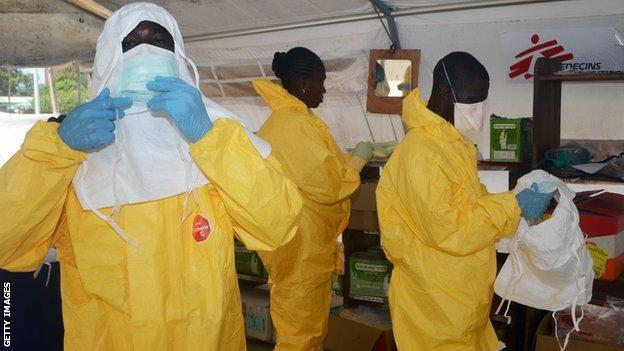 Sierra Leone and Guinea have been told to relocate their home Africa Cup of Nations qualifiers because of the Ebola virus outbreaks in their countries.
The Confederation of African Football has written to its member associations to inform them of its decision.
In the letter seen by BBC Sport, Caf says it is "a preventative measure to avoid mass gatherings that could facilitate the spread of the virus".
Caf says the measure will remain in place until mid-September.
Did you know?
Both Liberia and Sierra Leone have suspended all domestic football activities in an attempt to prevent the spread of Ebola.
It means at least the first two round of matches, scheduled for 5-6 and 10 September, will be affected.
To date, the World Health Organisation has reported 1848 cases of Ebola, which have resulted in 1013 deaths mainly in Sierra Leone, Guinea and Liberia.
Sierra Leone had already said it would not host any football matches until further notice and they have asked Ghana if they can host their Group D matches there.
The Leone Stars are currently scheduled to host DR Congo on 10 September.
As a result of Caf's directive, Guinea will need to find a new venue for their Group E tie against visiting Togo on 5-6 September.
Caf has also moved to allay fears centred on the countries' away fixtures, saying that "each federation whose country is affected by the virus must ensure their delegations travelling abroad can be examined before departure".
It added that "each national association receiving delegations must communicate the necessary information delivered by health authorities to ensure the reception of teams... and if necessary to provide additional checks at arrival points".
Sierra Leone are due to play Ivory Coast, DR Congo and Cameroon in the last round of qualifying, which runs from early September to mid-November.
There could be further complications after Ivory Coast, who are set to host the Leone Stars in early September, suspended all flights to and from Sierra Leone earlier this week.
Guinea's group also includes Ghana and Uganda.
The qualifying competition will decide the 15 teams to join hosts Morocco at the Nations Cup finals in January and February next year.