Wrexham manager Kevin Wilkin frustrated by defence after defeat
Last updated on .From the section Football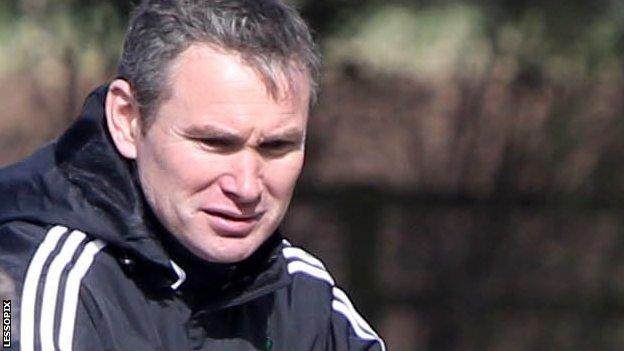 Manager Kevin Wilkin vented his frustration at Wrexham's defenders following defeat to Gateshead in the Conference.
Wrexham's first home game of the season ended in a 3-0 defeat with two of Gateshead's goals coming during a three minute second half spell.
Wilkin was unhappy with the manner in which the goals were conceded.
"I'm going to point it out - they've got to do better," Wilkin said.
"You can't allow balls to end up in the box so easily. They haven't allowed us easy balls into the box and they've defended the way you'd expect to defend.
"I felt we allowed them far, far too easy chances and too many opportunities.
"People need to take responsibility for it and if they can't I need to find somebody that can.
"Having said all that there are some players out there that have done well. That's the frustrating thing."
Wrexham did have chances to get back into the game after Jamie Chandler's 26th minute opener for the visitors.
Connor Jennings and Mark Carrington went close for Wrexham but second half goals from Marcus Maddison and John Shaw sealed Gateshead's win.
Wilkin was also frustrated his side suffered defeat in front of a healthy crowd of over 4,000 at the Racecourse.
"That's the most disappointing thing. We had a fantastic crowd and very vocal," Wilkin added.
"The crowd turns out to support us … and to succumb like we did is really disappointing for me."
The Dragons are also at home on Saturday when they host Wilkin's former club Nuneaton Town at the Racecourse.