Albion Rovers: John Devlin decides to step down as chairman
Last updated on .From the section Football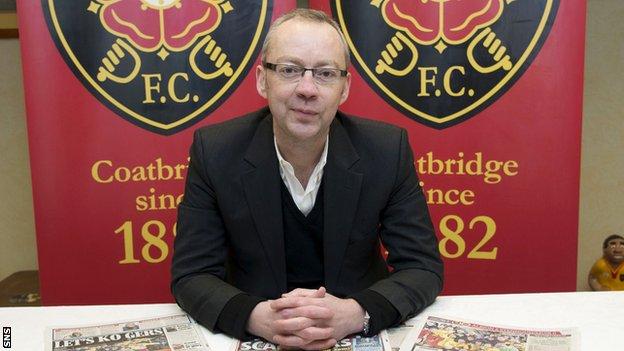 Albion Rovers have announced that John Devlin has stepped down as the club's chairman.
The boardroom changes will see businessman Pat Gillooly take over.
"Away from football, my own situation is changing and I have a number of other personal and business priorities that increasingly require my attention," Devlin said in a statement.
"With that in mind, I have taken the difficult decision to step down as a director of the club and as chairman."
Devlin had been behind innovative campaigns such as the "Pay what you can" season ticket offer, which saw sales treble.
"This past 12 months has been something of a rollercoaster ride and the club as a whole has certainly developed both on and off the park," the statement continued.
"There is now a board of directors and an experienced wider management committee in place who will provide stability, continuity and see through some of the innovative ideas that have been established.
"Pat Gillooly has received the backing of the board and will take over as chairman with immediate effect.
"It has been an honour and a privilege to serve the club on the board across the last six years and I would like to thank you all for your support and kindness.
"Hopefully I will see you all from time to time on the terrace."