Premier League chief Scudamore still in favour of '39th game'
Last updated on .From the section Football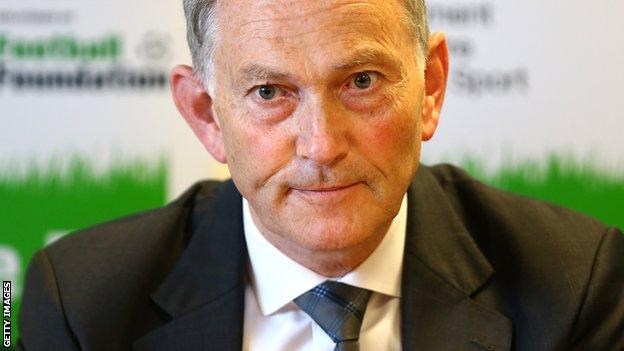 Premier League chief executive Richard Scudamore is still in favour of adding a controversial 39th game to the season - and says the clubs are too.
But Scudamore told the BBC: "The clubs wanted it then and they all would still probably want it now.
"It will happen at some point. Whether it is on my watch, who knows?"
Premier League clubs agreed in February 2008 to explore the option of playing an extra round of matches overseas at five different venues, with cities bidding for the right to stage them.
Four Premier League teams would travel to each venue, with a game played at each on Saturday and Sunday.
The value of the Premier League
The television deal for Premier League rights which runs from 2013-16 is worth almost £5.5bn
Over £2bn of this comes from the sale of overseas rights. Thailand, Singapore, Hong Kong and Malaysia paid £650m between them
Last season 98% of all Premier League matches were available to TV viewers outside England
North Korea and Albania are the only countries not to have some form of rights agreement in place
An extra game would be expected to earn each club about £5m.
It was reported six years ago that the additional fixtures could be determined by a draw, with the teams who finished in the top five of the Premier League seeded to avoid playing each other.
Uefa president Michel Platini called it a "nonsense idea" and the Football Association later rejected the proposal.
Fifa opposed the plans in March 2009, with president Sepp Blatter saying: "This idea to play a 39th round outside the country does not work."
But Scudamore, speaking at the official launch of the 2014-15 Premier League season - his first public engagement since he was criticised for making sexist comments in emails to colleagues - said the plan could be resurrected.
American Football has been played at Wembley since 2007, with three regular season NFL games set to be played in London this year.
BBC News chief business correspondent Linda Yueh
"When you bear in mind the Premier League is only beginning to break through into China and India, English football could soon be more valuable to the rest of the world than it is to the English, if it isn't already."
Read more of Linda's blog from May 2014
This year's Major League Baseball season started at the iconic Sydney Cricket Ground, where 80,000 fans watched the Los Angeles Dodgers and the Arizona Diamondbacks.
The NBA has staged basketball games in London and Manchester in recent years.
Scudamore admitted that an additional round of league fixtures may not do more to attract fans from abroad than some pre-season games that already take place.
Premier League clubs routinely travel abroad on friendly tours, with Manchester United drawing a record US crowd of 109,318 when they played Real Madrid in Michigan this month.
United and Liverpool then played the final of the International Champions Cup in front of more than 50,000 fans at the Sun Life Stadium, home of the NFL's Miami Dolphins, on 5 August.
Scudamore added: "What has been interesting over the summer, particularly in the US, watching those audiences, you could argue that we don't need to [bring in the 39th game].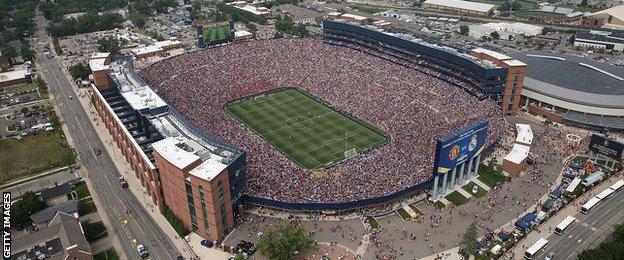 "To get 102,000 to what we would call a pre-season friendly - you wouldn't get more even if there was three points, six points, or even nine points riding on that particular game."
Scudamore defended the Premier League's status as one of the best in the world, despite Spanish clubs such as Real Madrid and Barcelona signing some of the biggest names in football.
This summer, Real spent £63m on Colombia forward James Rodriguez and Barcelona paid £75m for Liverpool's Luis Suarez, while La Liga president Javier Tebas said he wanted "the best 500 players" in the league.
Scudamore said: "The fact of the matter is we have got the most competitive league.
"The way we distribute the TV rights to all the clubs, the way me make every club able to compete is very, very different to how they do it in other leagues, particularly in Spain.
"I would far rather have a league where we are talking about five, six, maybe seven teams that can possibly come and challenge to win the title.
"In Spain, it's not quite the same in terms of strength in depth."
Scudamore, who apologised in May after he was accused of undermining women's football by making sexist comments in private emails, also said the Premier League had to "double its efforts" to make people aware of its stance on the women's game.