Bob Paisley: How Liverpool's reluctant hero began a revolution
By Russell Stoddart
BBC Sport
Last updated on .From the section Liverpool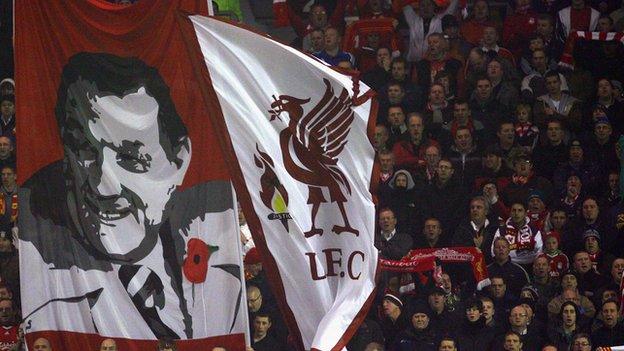 Liverpool began their Premier League campaign with a 2-1 victory against Southampton on Sunday and manager Brendan Rodgers will be attempting to build on last season's second-placed finish.
But whatever Rodgers achieves at Anfield during his tenure, he is unlikely to surpass the feats of Bob Paisley, who took charge of Liverpool in the league for the first time exactly 40 years ago, with a 2-1 win at Luton on 17 August, 1974.
In his nine seasons in charge, Paisley won six league titles, three European Cups, three League Cups, a Uefa Cup, Super Cup and three Charity Shields. He was also manager of the year on six occasions - an honour won by Rodgers for the first time last season.
Paisley's 45 years as a player, physiotherapist, coach, assistant manager, manager and director is a unique example of loyalty to one club. Here, we look back at the career of one of the great managers.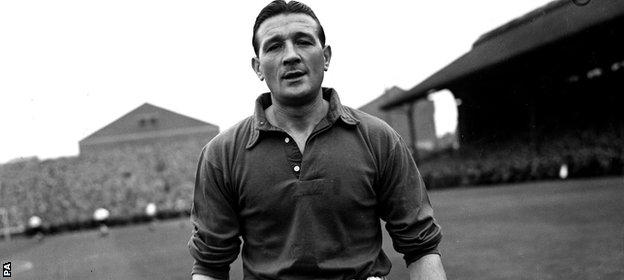 The reluctant genius
There is no knighthood on the family mantelpiece or statue outside Anfield to commemorate one of Liverpool's true legends, but Paisley was never one for personal plaudits or making a fuss.
Long-time Liverpool secretary Peter Robinson described having a "frightful time" trying to persuade Paisley to take over the managerial reins following the departure of predecessor Bill Shankly, who had claimed three league titles, two FA Cups and two Uefa Cups over 15 seasons after taking over in 1959.
When Paisley took his first training session after his appointment, he told a shocked dressing room that he was "only looking after the shop until a proper manager arrives".
Record appearance holder Ian Callaghan, who played in midfield for the club between 1960 and 1978, said: "Bob was very reluctant to become manager because he didn't think he was cut out for it. He was an introvert and preferred being in the background.
"I think we all had to adjust. He'd always been known as simply 'Bob'. It was Shanks who was 'boss', and it took time to change.
"Shanks was a one-off, but Bob was a one-off too and he found ways of making a great club even greater."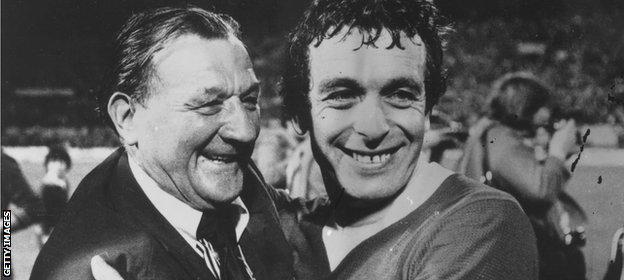 Shankly v Paisley
These two greats were entirely different characters with different strengths, but they complemented each other.
Paisley biographer John Keith, who has written and produced a 40th anniversary tribute show that will be staged at New Brighton's Floral Pavilion on 12 September, said: "Bob once remarked that while Shanks wore steel tips on his shoes so people knew he was coming, he preferred to wear carpet slippers.
"When Bob took over he called some of the press into his office and explained he was not very good at saying what he meant, and gave permission for us to finish off his sentences for him."
Left-back Alan Kennedy, who scored winning goals in two European Cup finals under Paisley, said that he had a ruthless streak that Shankly never had.
He said: "Bob learned a lot from Shanks' reluctance to change an ageing Liverpool side in the late 1960s. Just after we won the European Cup against Real Madrid in 1981 he said the team needed freshening up and he went out and did it."
Among the players who were phased out within a year were goalkeeper Ray Clemence, midfielder Terry McDermott and striker David Johnson.
Right-back Phil Neal, who won eight league championships and four European Cups with the club, said that Paisley's ability to pick players from obscurity was a major strength.
Neal added: "He signed defender Ronnie Whelan from Irish League side Home Farm, striker Ian Rush from Chester and goalkeeper Bruce Grobbelaar from Vancouver Whitecaps.
"When Kevin Keegan moved to German side Hamburg in 1977 for £500,000, Bob brought in Kenny Dalglish from Celtic and made a £60,000 profit on the deal."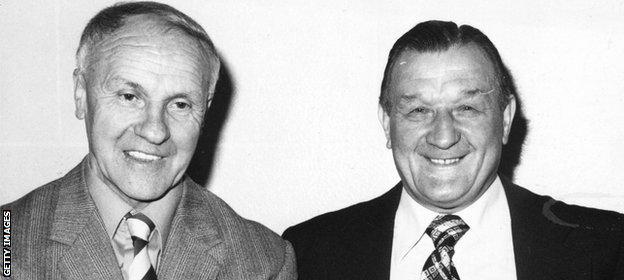 Soaked with success
Paisley had a tough act to follow in succeeding Shankly, but Liverpool did not just dominate English football during Paisley's tenure, they dominated Europe, too.
In his second season as boss, Liverpool won the Uefa Cup, but Paisley had his eyes on the biggest prize of all.
The following season, he took Liverpool to their first European Cup success when they beat Borussia Monchengladbach 3-1 in the final in Rome.
Bob Paisley's career timeline

May 1939

Signs professional contract with Liverpool.

October 1939

Joins 73rd Regiment of Royal Artillery as anti-tank gunner.

March 1954

Plays final game for Liverpool in 1-0 loss at Sheffield United.

April 1954

Becomes Liverpool's reserve coach.

April 1956

Guides reserves to first Central League title.

July 1974

Succeeds Bill Shankly as Liverpool manager.

May 1976

Wins League and UEFA Cup double.

May 1977

Guides Liverpool to first European Cup and retains League.

May 1978

Paisley is first English boss to retain European Cup.

May 1979

Wins League for third time.

May 1980

Wins fourth League title.

May 1981

Leads Liverpool to third European Cup as they beat Real Madrid 1-0.

May 1982

Wins fifth League title with final-day win over Tottenham.

August 1982

Announces he will retire at end of 1982-83 season.

March 1983

Wins League Cup at Wembley with 2-1 win over Manchester United.

May 1983

Wins sixth League title and takes charge of Liverpool for final time.
On his one and only previous visit to Rome in 1944, Paisley had been a gunner in the Eighth Army and rode on the back of a tank during the liberation of the Eternal City.
Although not one for team talks, his words to the players before going out for that famous win in 1977 were as humorous as they were inspiring.
Keith explained: "He roused the players by saying that the first time he was in Rome he beat the Germans, and they were to go out there and do it again."
Paisley followed it up by taking Liverpool to two further European Cup crowns in 1978 and 1981.
Until Carlo Ancelotti led Real Madrid to Champions League glory in May, Paisley was the only manager to win three European Cup/Champions Leagues. He is still the only manager to do so with the same club.
Neal, who was Paisley's first signing from Northampton in 1974, added: "Bob's wife Jessie once said to me that what made his achievement even greater was that in those days you had to win the league to get into the European Cup. Nowadays you can finish fourth and still qualify."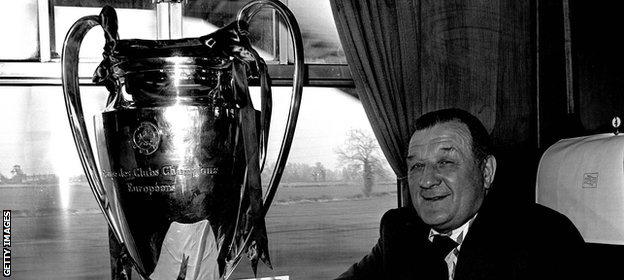 The father figure
Alan Kennedy's family came from the same area of Tyne & Wear as Paisley and the former left-back says that he introduced the same sense of community at Liverpool as was found in the close-knit community he left behind at Hetton-le-Hole.
Kennedy said: "He didn't just chat to the tea ladies and the kit washing women, he knew their first names and, more to the point, wanted to know them.
"He always treated us the same as he would treat his sons.
"When Bob signed me as a 24-year-old from Newcastle United, he said it wasn't a gamble because he knew I was the right type of personality to make it at Liverpool because he was familiar with my background.
"He went to school with my mum, Sarah Anne, and they knew each other as they grew up. She used to serve him a lot when she worked in a fish and chip shop.
"When I joined Liverpool he would drive me to and from my hotel and tell me all the virtues of playing for the club."
Neal added: "Bob didn't focus on individuals, he treated everyone the same. He knew the importance of the team and so no-one was left out in the cold. If you had a problem on or off the pitch his door was always open."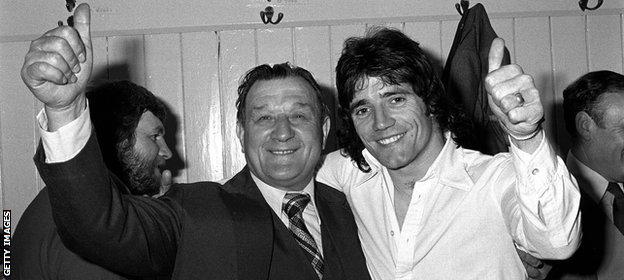 Paisley's quirks
After his playing days ended in 1954, Paisley had taken a correspondence course in physiotherapy and from it honed new skills that became beneficial later in his career.
Paisley did not like medical equipment and often struggled even to plug things in, but he had a sixth sense and trusted unorthodox methods, as striker David Fairclough was to find out.
Keith added: "David ran over to take a corner at the Kop end and as he cocked his leg to strike the ball, Bob turned to coach Joe Fagan and said 'get him off, he needs a cartilage operation'. Next week he was under the surgeon's knife."
Years earlier, Liverpool had hosted Bertie Mee's Arsenal and in the warm-up Paisley noticed Gunners striker Charlie George running with a slight ankle injury and persuaded Mee to pull George from the starting line-up.
Kennedy said that players were amazed by his ability to pick up on the slightest knocks. He added: "He had an uncanny knack. He would come up to you and ask 'are you alright?' Even if you felt fit that would put a doubt in your mind."
Shankly is often regarded as the brainchild behind the famous Anfield boot room, where tactics were discussed and important decisions made, but it was actually Paisley's idea.
Shankly had an office, but Paisley and the other coaches wanted their own place to go to chat, so chose the boot room.
Paul Orr, a friend and local brewery manager, ran his own team and would send players over to Anfield for extra coaching.
As a thank you, Orr, who later became Liverpool's lord mayor, sent a lorry to Anfield with crates of Guinness for the boot room.
Callaghan added: "You had to be invited into the boot room and when I was coming to the end of my career, Bob would invite me in with the other coaches and we'd have chats over a glass or two of Guinness."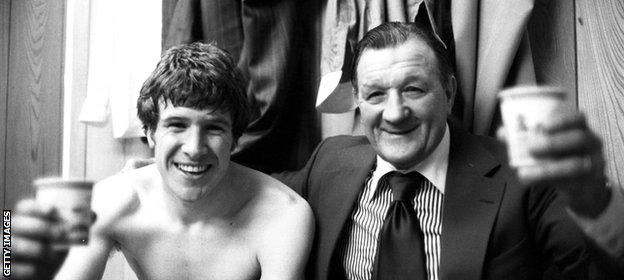 Anfield sunset
Paisley had taken over the Anfield reins when he was 55 years old and by the age of 64 he had had enough.
When Shankly quit as manager, he could not let go and was often a distraction at the club's Melwood training ground.
Paisley did not want that for his successor Joe Fagan and kept a respectful distance.
Keith said: "Bob was intense when he was involved in football, but he knew when to back off. He loved nothing better than going home to Jessie and having a cup of tea and putting his feet up.
"He did become a director at the club, but he didn't interfere with the playing side, although he did become an advisor to Kenny Dalglish when he was player-manager. Kenny later said that 'the biggest debt I owe in football is to Bob Paisley' because of the vast knowledge he shared with him."
Paisley is regarded by many as the most successful manager in English football because he accrued his 20 trophies in a third of the time it took Sir Alex Ferguson to win his 38 trophies with Manchester United.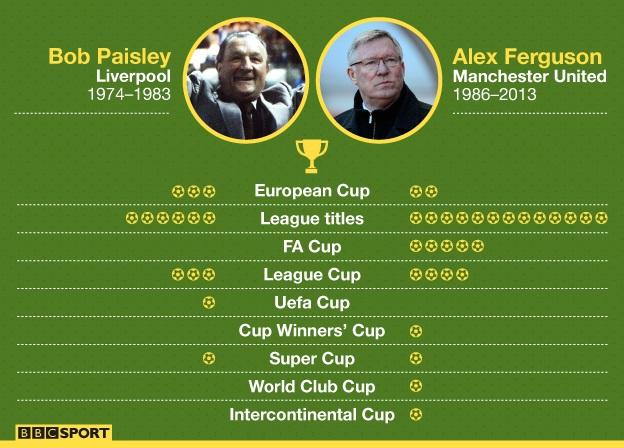 Ferguson recently admitted that his only regret was not matching Paisley's three European Cups at Manchester United.
While Ferguson won 1.46 trophies per season in 26 seasons at United, Paisley achieved 2.22 per season.
Callaghan said: "It is always difficult to compare, but Paisley's record speaks for itself. When you factor in his other achievements at the club both on and off the pitch, I think he has to be the best."
Paisley died in 1996, aged 77, after suffering from Alzheimer's disease.