Brain expert urges Scottish football head injury rethink
Last updated on .From the section Football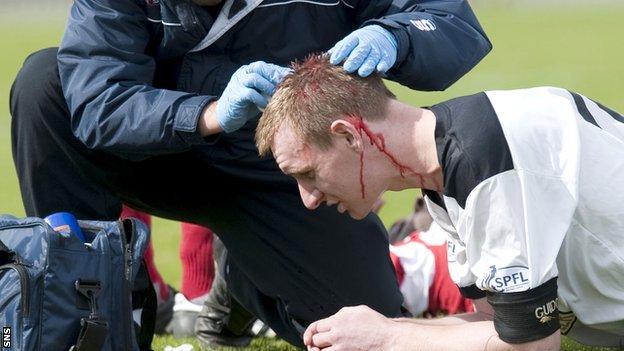 A brain injuries expert has said that Scottish football needs to do more research into treating head injuries.
Dr Willie Stewart urged football clubs to be more responsible in looking after people with head injuries.
"Last week the FA released new guidelines for head injury management in the Premier League and the professional game," Stewart told BBC Scotland's John Beattie show.
"These aren't perfect, far from it, but it's a start."
The neurologist met with the English Football Association's chairman Greg Dyke last week along with the family of Jeff Astle, who passed away in 2002 with the coroner ruling his death was due to injuries sustained though football.
"He was pretty clear that the FA, in the 12 years since Jeff Astle's death, hasn't done enough to tackle the issue of head injuries in the game and what the long-term problems might be," said Stewart.
"He actually gave a very clear commitment the FA will spend quite a considerable effort to look into the issues around head injuries in the game - not just to perform the necessary research, but also to advise people through the whole game how to better manage concussion.
"It's a long way further than other football associations around the country and the world have gone.
"I got a clear indication that this is just the beginnings of a process that they're going to see filter through the whole of the game of football in England - so everything from grassroots, kids playing school matches, right up to the professional game.
"I think that Scottish football could possibly take a lead from the Football Association.
"I know that I've been speaking to the people in Scottish football and they are keen to progress this, but I think the Football Association has demonstrated that it is possible to take this matter on and continue to play an attractive and very high profile game.
"I think any sports organisation should really be getting behind this kind of measure now."
The issue of head injuries in football was raised during the World Cup when Uruguay's Alvaro Pereira and Germany's Christoph Kramer were both allowed back on the field to continue playing despite suffering concussion.
Stewart added: "We're far too early in our understanding of the risks of concussion in sport. There just isn't evidence at the moment to suggest that one aspect is the area that we should be directing all our intentions to, or banning.
"The majority of head injuries that occur in football aren't to do with the physical act of heading the ball but they're to do with accidental collisions."