Hibernian say David Low bid not in best interests of club
Last updated on .From the section Football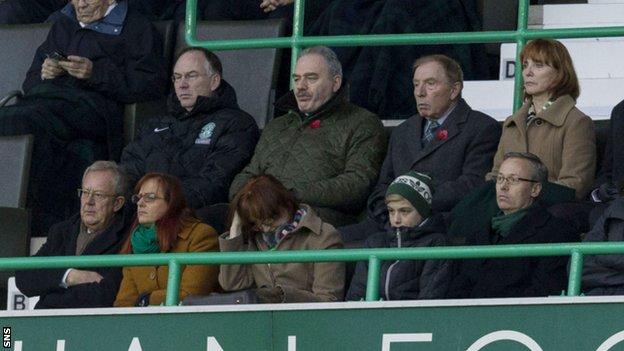 Hibernian have confirmed that a £3.5m takeover bid has been rejected on the grounds that it is "not in the best interests of the club".
David Low tabled the offer on behalf of a consortium that reportedly includes former Hibs chairman Malcolm McPherson.
And BBC Scotland has learned that Low will not return with an improved bid.
"The first consideration for any proposal received is whether it is in the best long-term interests of Hibernian," read a club statement.
Prior to the Edinburgh club's announcement, Low had suggested that Easter Road chairman Rod Petrie was placing too much emphasis on personal gain.
The Glasgow-based financial advisor released his own statement, saying: "On 18 June 2014 I made an offer for the shares in Hibernian FC owned by HFC Holdings Limited, Sir Thomas Farmer and Mr Roderick Petrie on behalf of myself and other investors.
"That offer was rejected by Mr Petrie yesterday evening [12 August].
"The principal reason given by Mr Petrie was that it involved no financial consideration in respect of their equity interest and shareholder loan in Hibernian FC.
"I acknowledge that both gentlemen are entitled to reject any offer they do not consider to be in their best financial interests and I accept their decision.
"However, it is apparent that Mr Petrie's decision has more to do with personal wealth management than any Legacy for Leith and, consequently, their estimation of the value of their investment bears no relation to the reality of the marketplace."
Hibs responded soon after, with a statement on behalf of their board.
It read: "Mr Low was given every courtesy to explain the benefits to the football club of his proposals to an independent expert.
"Potential benefit to the club was put ahead of any personal consideration.
"The advice given to the club was that the proposals set out in heads of terms dated 10 July received from Mr Low's lawyers, and again set out at a subsequent meeting held between Mr Low and the independent adviser, were not in the best interests of the club.
"That point was made specifically in the letter to Mr Low's lawyers rejecting the offer."
Farmer has a 90 per cent stake in HFC Holdings, the club's parent company, with Petrie holding the remaining 10 per cent, while the Low-led consortium is also thought to include the former owner of Carlisle-based non-league club Celtic Nation, Frank Lynch.