Celtic: Safe-standing proposals not met with approval
Last updated on .From the section Football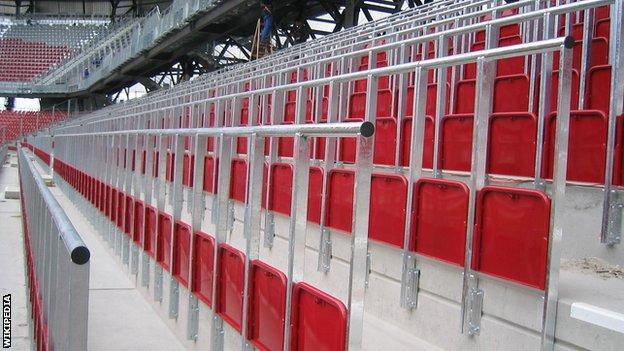 Celtic are "extremely disappointed" after a proposal to introduce safe-standing failed to receive approval from Glasgow City Council.
At a meeting with the Safety Advisory Group, the Scottish champions sought permission to install rail seating.
"We do not understand the rationale for today's decision," the club stated.
"Spectator-safety at Celtic Park is of paramount importance and we believe the proposals we have made would significantly enhance safety."
Glasgow City Council claimed Celtic's plan did not offer enough safety assurances to the group, which includes representatives from the three emergency services.
Several Bundesliga clubs use rail seating at their stadiums in Germany.
For domestically governed games, the seats are locked in the upright position to allow fans to stand and lean on the rails. Whereas for Uefa governed games, the seats are unlocked to comply with all-seater stadium rules.
A council spokesman said: "All agencies represented on the safety advisory group felt that a stewarding plan alone, as proposed by Celtic, was insufficient to ensure spectator safety in the standing area.
"It is the view of agencies on the safety advisory group that some form of physical barrier between standing and seating areas is required to ensure that a standing area would be appropriately managed.
"However, the group would also have to be satisfied that any such barriers would still allow for the movement of emergency services personnel and spectators in the event of an incident at the stadium."
Celtic had hoped to lead the way in the United Kingdom with the creation of new safe-standing areas.
The club's statement added: "The club has provided substantial and detailed information in support of this proposal over the past two-and-a-half years and has made every effort to address comprehensively all issues raised by the SAG.
"Today's decision has been made despite the club also providing the requested additional information from an independent stadium safety expert, Dr Steve Frosdick.
"Surprisingly, we have also today been informed by the Safety Advisory Group, chaired by Glasgow City Council, that this may be a matter for the Scottish Government.
"Yet we have previously been told by the Scottish Government that this is a decision which must be taken locally at council level."