Referees should get paid more in Championship, says Stuart Dougal
By John Barnes
BBC Scotland
Last updated on .From the section Football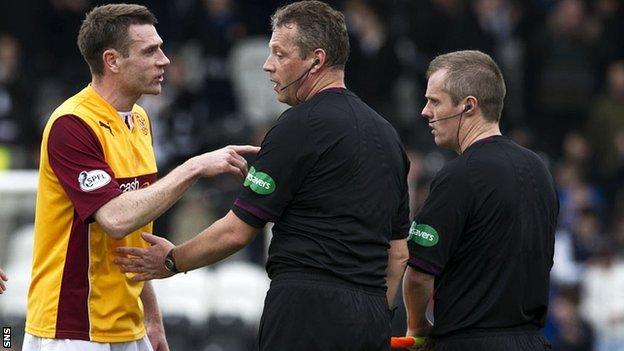 Former referee Stuart Dougal believes Scottish match officials would be justified in threatening strike action, but does not think it will happen.
The dispute centres around referees feeling too much of a gulf exists between payment in the top two tiers.
Referees get £840 for a Premiership game and £195 for a Championship match.
"Most people would accept a Rangers-Hearts, Rangers-Hibs, Hearts-Hibs game in the Championship is just like a Premiership match," said Dougal.
"So, absolutely, I think they should get a Premiership wage for doing Premiership matches that are under the banner of the Championship."
Scottish referees went on strike in November 2010 after becoming disillusioned with high-profile attacks on their integrity.
But Dougal does not see it happening again at the moment.
"They were challenged a few years back, didn't get the necessary support and to a lot of people's surprise actually did go out on a day of inaction," he said.
"I don't think it will happen, I hope it doesn't happen, but a lot of that is down to the authorities to make sure that they sit round with the referees and don't try and penny-pinch.
"Show them the support that match officials in every sport require and ensure that this is put to bed once and for all."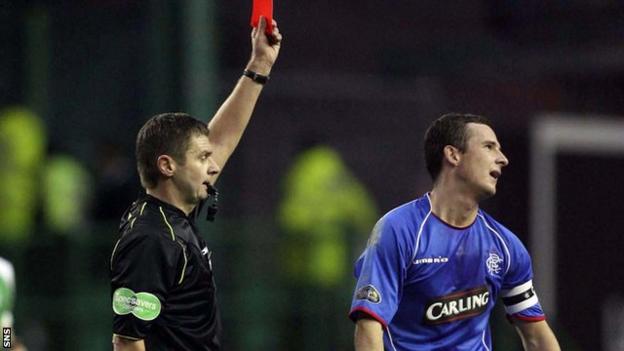 And it seems like the issue is in the process of being ironed out.
James Bee, who is chairman of the Scottish Senior Football Referees Association, also played down talk of an impending strike.
Bee said in a statement that his organisation are "engaged in positive discussions with the Scottish Professional Football League and the Scottish FA with a view to agreeing a new Service Level Agreement between the bodies which will include fees throughout the four senior divisions".
And he added: "I wish to state emphatically and categorically that all our match officials are committed to undertaking their duties as normal and we look forward to reaching agreement in due course."