Phil Brown: Southend United boss wants freedom to criticise referees
Last updated on .From the section Football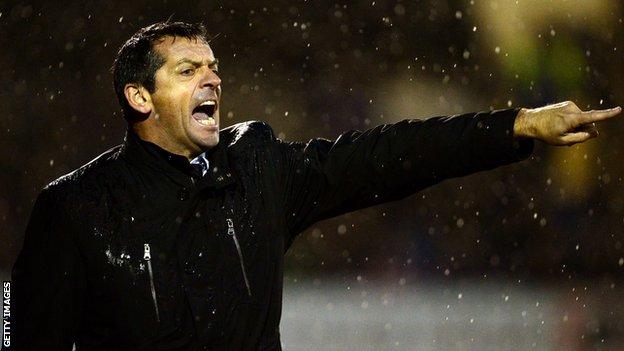 Southend United boss Phil Brown believes managers should be able to criticise officials without the threat of punishment.
Managers can be charged with misconduct when criticising officials.
"Disrepute charges? You can't stop a manager from being honest. The referee's had an absolute beast tonight," Brown told BBC Essex.
Brown was particularly angered on Tuesday by Ward's decision not to send off Walsall's Paul Downing for a foul on Lee Barnard towards the end of the first half.
The former Hull City manager felt his striker was denied a clear run on goal.
He said: "We've got to get this right without me being out of order. The referee tells me, through the fourth official, that he didn't have full control of the ball, so it wasn't a goalscoring opportunity.
"He then told the players that he wasn't the last man. As far as I'm concerned, if he has one story to tell, tell the one story.
"It's a tough job. I'm not going to climb down on what I just said. But I'm absolutely adamant that the referee has had a nightmare.
"He can't go home tonight and sleep well because he's denied us the chance of going through to the second round of the League Cup.
"It can put your job at risk - you rely on cup wins. League One and League Two clubs rely on the finances."