Premier League: Fans' federation to stage ticket-price march
Last updated on .From the section Football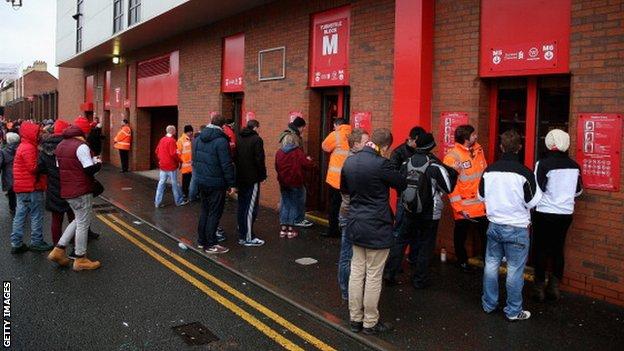 The Football Supporters' Federation will lead a march on the Premier League's headquarters on Thursday to highlight the high price of tickets.
An FSF delegation will meet with League chief executive Richard Scudamore in London to express concern at the financial demands placed on fans.
"The Premier League has money coming out of its ears through rights deals," said FSF chairman Malcolm Clarke.
"It is time some of that benefited the fans and not just players and agents."
Scudamore has defended the clubs' ticketing strategy, stressing that it is down to them to set their own prices.
Last season, the Premier League put £4m into discounted schemes, which included Stoke's offer of free coach travel to away games.
"Whilst I have some influence, there is no way I can get involved in 20 clubs' individual pricing. You can't standardise ticket prices," said Scudamore.
"You never hear people talk about West Ham's £1 for children. There is always going to be a group of fans that think ticket prices are too high."