Hearts: Scottish clubs years behind Europe, says Neilson
Last updated on .From the section Football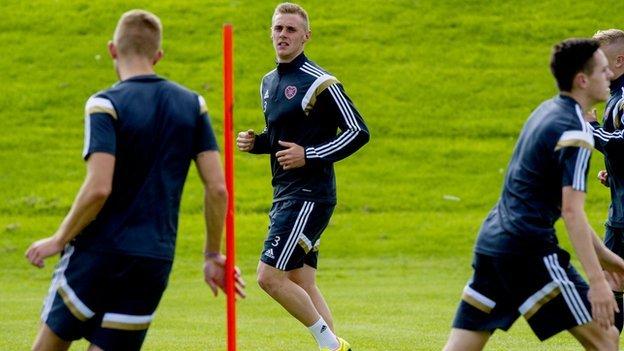 Hearts head coach Robbie Neilson believes Scottish football is "10-15 years behind" much of Europe in terms of training methods for young players.
The new Tynecastle head coach has brought in double training sessions and is adamant young players in Scotland do not train enough.
"Young players come into the first team and after six months they fall back out of it again," Neilson said.
"It's an issue we've had over the years but I think it is changing."
Neilson feels Scottish clubs need to follow those on the continent, who train up to three times a day to develop their best talent.
| Hearts' summer signings | |
| --- | --- |
| Neil Alexander, 36 | Prince Buaben, 26 |
| Soufian El Hassnaoui, 24 | Morgago Gomis, 29 |
| Liam Henderson | James Keatings, 22 |
| Alim Ozturk, 21 | Osman Sow, 24 |
"We've got a very young team that still needs to develop," he said. "They still need to learn the game. They've still got a lot of things they need to work on.
"The more you train the better you'll be. It doesn't need to be two-hour sessions, it can be 45 minutes as long as it's specific things.
"The afternoon sessions are mostly group sessions or we split them up and put them into different areas of the pitch."
Hearts opened their Championship campaign with a 2-1 win over Rangers at Ibrox. In the build up, they trained twice a day, using the afternoon session to work on technical matters.
"I think it's important they do that," Neilson added.
"A lot of the time a player will come through a youth team training double sessions, then 19 and 20 they think they've made it. They go into the usual first team training programme where you come in at 10 and you're away for 12.
"For a young player you won't develop like that. Certainly up here and down in England as well we're starting to look at the European side of things.
"But, I think in Scottish football and British football we're still 10-15 years behind the continental teams for the workload that they put on players."