Luis Suarez: The biter bit - or has striker got off lightly?

By Dan Roan
BBC sports editor
Last updated on .From the section Football
It was one of those moments in sport that is hard to forget. It was 24 June, 2014 and, as I forced myself to watch the final stages of England's dismal draw against Costa Rica, news filtered through of 'another Luis Suarez incident'.
Then, as the disbelief gave way, and those notorious images of the Uruguayan's latest biting controversy reached us in Belo Horizonte, the impending departure from Brazil of Roy Hodgson's side suddenly seemed less important.
For England, this had become a great day to bury bad news. All anyone wanted to talk about now was Suarez's latest moment of madness, and what on earth Fifa would do about it.
Soon we found out - not just a nine-match ban from playing for his country but a record four-month suspension from any football activity, anywhere. Fifa had bared its teeth and we had discovered where football drew the line. Liverpool would have to sell their best player.
Fifty-one days after that World Cup match in Natal, the story of the striker sinking his teeth into the shoulder of Giorgio Chiellini has finally reached its conclusion, with the Court of Arbitration for Sport (Cas) upholding the ban on playing 'official' matches but clearing Suarez to take part in friendlies for Barcelona and Uruguay and to train with his new club.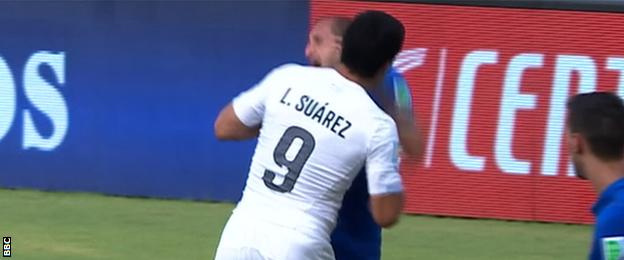 Suarez's lawyers may claim they have "successfully appealed" against his ban from all football activity but, given they made public their confidence of a reduced ban in terms of length, it is hard not to believe both they - and Barcelona - will be a little disappointed.
Having said that, by preventing him from even training with his new club, Fifa's ban would, in reality, have been longer than four months. Suarez would have needed additional time to gain fitness and familiarity with his team-mates once he was allowed to resume his career.
It will, therefore, come as a relief to both the player and Barcelona that he can now at least hit the ground running on 25 October. Cas agreed with Suarez that the ban was "excessive" and would "still have an effect on his activity after the end of the suspension".
Many will be surprised that both Suarez and Barcelona have gained any ground. After all, the offence was awful, the example he set to the millions watching was appalling, his previous record atrocious, and Barca were fully aware of the conditions of the ban when they bought him.
The fact he can play friendly matches immediately seems to make something of a mockery of Fifa's original decision.
Cas will reveal fully in due course why it has taken a more lenient view of the offence than world football's governing body did, but Suarez's lawyers claim they "successfully argued that Fifa had misapplied its own rules when considering the case and the sanction it imposed was disproportionate".
Suarez had to show that Fifa's sanction was irrational and that he was in some way made an example of. And, when you look closely at the laws of the game, you can perhaps see a case.
The core of his argument was that, because the incident took place while playing for his country, he should only be prevented from playing for his national team.
Articles 10, 70 and 136-7 of Fifa's disciplinary code explain the special circumstances when a ban may be extended to club games as well as internationals. The examples listed are offences such as doping, match fixing, forgery, lying about one's age, etc. Although "not limited" to that list of misconduct, the intention is clear - that worldwide bans should apply to serious off-field offences concerned with the integrity of the game.
Suarez's lawyers will have reminded Cas that never before had a player been prevented from playing for their club as the result of an on-field offence like his. The ban was unprecedented.
Much has been made of the the fact that Zinedine Zidane's infamous headbutt in the 2006 World Cup final only earned him an international ban, although comparisons with that incident are not helped by the fact that (a) the Frenchman retired after the match so the punishment was effectively meaningless, and (b) Fifa's rules at that time did not include the ability to apply worldwide bans.
Many will point to the fact that Suarez had previous. But his lawyers will have argued that their client's awful disciplinary record should only have influenced the length of ban, not its scope.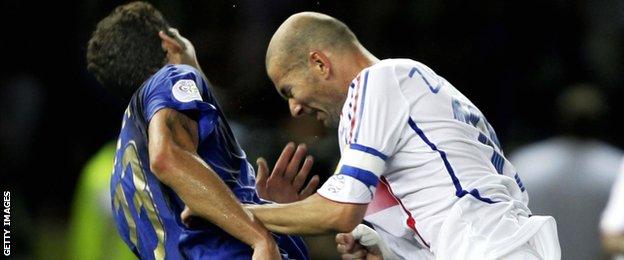 In other words, a long suspension from international football may have been acceptable but it should not have been extended to club football just because he is a repeat offender.
Also in Suarez's favour was the legal climate in which this case occurred. His lawyer, Alejandro Balbi, said the ban violated his client's "fundamental rights" by infringing his right to work at club level.
In 2012, a Cas verdict was annulled by the Swiss Federal Tribunal (SFT), the only legal body in the world that has the power to overrule them, given that Cas's Lausanne headquarters fall under their jurisdiction.
Fifa had ordered Brazilian player Francelino Matuzalem to pay millions of pounds of compensation to former club Shakhtar Donetsk when he terminated his contract with them to join Real Zaragoza in 2007.
When he refused to pay, Fifa then threatened to ban the player. Cas backed that decision, but the SFT found in favour of the player, deciding that the ban amounted to an infringement of his economic freedom.
Two of the three Cas 'arbitrators' hearing the Suarez case were Swiss - President Bernhard Welten and Dr Marco Balmelli - and perhaps the Matuzalem case was in their minds.
Given all that, perhaps it is something of a surprise that Cas did not reduce the length of Suarez's ban. But, then, it is very careful about overturning discretionary punishments meted out by bodies such as Fifa. It will only do so when the sanction is shown to be "obviously unreasonable or perverse" and even Suarez's highly-paid lawyers were only able to demonstrate this to an extent.
Sports lawyer Kevin Carpenter told me: "A precedent has now clearly been set for exceptional and repeated on-field misconduct. It will be interesting to see if this principle is applied in the future to other exceptional offences at international level, such as those of a racial nature."
Football may also want to consider taking a leaf out of rugby's rule-book. If a player is guilty of an on-field offence, a ban applies to all matches, whether club or international. And costly lengthy disputes such as the one we have witnessed over Suarez's punishment are avoided.
Liverpool fans still smarting from the effect all this has had on their club will likely be relieved at the verdict. A significant reduction in the length of ban would have led many to wonder if their club should have received more than the £75m that Barcelona paid for their talisman. Some may even have asked whether the club should have hung on to him and appealed to Cas themselves.
But, regardless of the decision, Liverpool had no choice but to sell their £200,000-a-week striker. Having forgiven him twice - for racist comments towards Patrice Evra, and then for biting Branislav Ivanovic - a proud club's entire reputation was on the line.

Indeed, many will back the view of Premier League chief Richard Scudamore that English football is ultimately better off without a player whose wonderful talent was sadly outweighed by an inability to behave properly. Despite all those goals, Suarez had simply become too toxic. Few believe he will learn from this, and that another controversy is simply a matter of when, not if.
The Uruguayan's loyalists will be angry that Fifa's ban remains largely intact. They will point to the tackles which endanger opponents' careers but receive lesser sanctions.
Suarez, they say, was made a scapegoat by a world governing body under pressure from sponsors and media to make the most of a golden opportunity - to prove that despite such rampant criticism over the way football is being run, it can still protect the integrity and image of the game.
Most observers, however, will insist that justice prevailed, and that Cas largely got it right.