Martin Allen: Barnet head coach looking to settle
Last updated on .From the section Football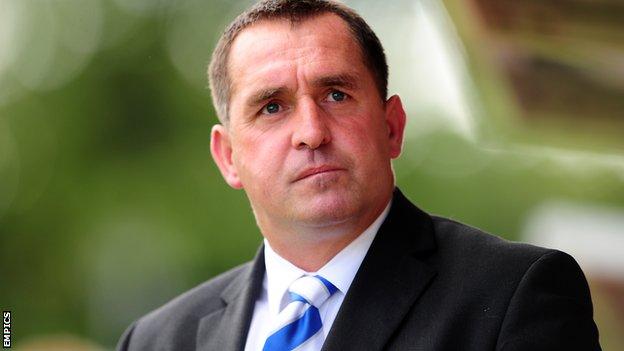 Martin Allen says he would like to settle at Barnet, as he enjoys his fourth spell in charge of the club.
"I think it is coming up to six years I have been travelling all over this country, moving house left, right and centre," he told BBC London 94.9.
"Sometimes I wish I had bought a caravan. I am comfortable here."
Martin Allen's four spells in charge at Barnet
March 2003 - March 2004:
Played: 47 Won: 20 Drawn: 17 Lost: 10
March - April 2011:
Played: 3 Won: 2 Drawn: 1
April - May 2012:
Played: 3 Won: 2 Lost: 1
March 2014 - present:
Played: 11 Won: 5 Drawn: 4 Lost: 2
Statistics correct to 14 August, 2014
The former Queens Park Rangers and West Ham midfielder was first appointed Barnet boss in March 2003 but left the north London club a year later to manage in the Football League with Brentford.
His second spell in charge, in early 2011, saw him leave after just three games when he moved to Notts County and his third spell ended when his short-term contract was not renewed at the end of the 2011-12 campaign, despite saving the Bees from relegation.
Allen was appointed Gillingham boss in July 2012 but later stated he would have liked the opportunity to remain in charge at Barnet.
"I am just about to move into my house, which I bought two years ago," he said. "I have not even stepped inside. It is like a breath of fresh air.
"I have got good players, a fantastic staff and I get on well with the chairman [Tony Kleanthous]. He trusts me.
"Let's not beat about the bush - I went to Notts County for the money. I sometimes regret it but at other times I think that most people would do it. At the moment I haven't got itchy feet to go off and earn money as quickly as I used to."

After returning to the club in March, Allen saw his side miss out on the play-off places last season but the Bees beat Chester 5-0 on the opening day of the new campaign and followed that up with a 2-0 victory over relegated Bristol Rovers on Tuesday.
He is hoping to lead the club back to the Football League but is refusing to get carried away with their perfect start.
"I had a great championship-winning team at Gillingham and that was an unbelievable year. I want the same again," he said. "Can we do it at Barnet? Possibly.
"It's only two wins. If we get 10 straight wins we will perhaps start talking. What will be come next April, I've no idea. We'll give it our best shot."
Martin Allen on the strength of the Conference
"I don't call it the Conference. I just think it is another division. It is about time the rules got changed.
"It should be two promoted automatically and one more going up through the play-offs. That is how it should be happening in my mind.
"It is a great league to be in. The crowds are good and the stadiums are much better than when I first started in the Conference. The referees and officials are of a much higher standard. It is an exciting time."
Meanwhile, Allen says Barnet fans are starting to develop an affinity towards The Hive, which they moved into last summer after leaving Underhill, which had been their home since 1907.
"The atmosphere at The Hive the other night was very similar to when I was first at Barnet when we were at Underhill," he said. "At the end of last season, it was drab and dull. The team and the performances were boring. It ain't like that now. This place is rocking and rolling."
He continued: "There is always part of the supporters, the players and me that [belongs at] Underhill. It was pretty special and always used to generate a fantastic atmosphere.
"On Tuesday, it was coming back for the first time since I've been back here."