Ipswich Town: Marcus Evans expected rapid promotion for club
Last updated on .From the section Ipswich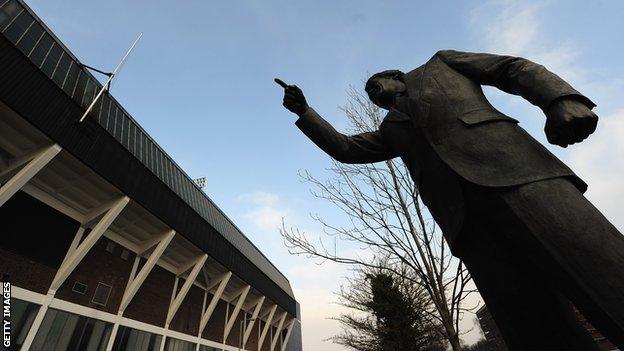 BBC Radio Suffolk's exclusive interview with Marcus Evans
Find out more in the
BBC Radio Suffolk
Breakfast Show from 07:00 BST on Friday, 15 August and then Life's a Pitch at 12:00 BST on Saturday, 16 August
Ipswich Town owner Marcus Evans has conceded he thought reaching the Premier League would be straightforward when he bought the club.
Town are in their seventh full season under Evans and have not reached the Championship play-offs in that time.
In a rare and exclusive interview with BBC Radio Suffolk, the media-shy businessman admitted that he was preparing for immediate success.
He said: "When I first bought the club I did expect it to happen far easier."
He added: "Those people who sold the club did a very good selling job in persuading me that a little bit of extra money and one or two extra players was all that was needed.
| Jim Magilton (June 2006 - April 2009) | Roy Keane (April 2009 - Jan 2011) | Paul Jewell (January 2011 - October 2012) | Mick McCarthy (November 2012) |
| --- | --- | --- | --- |
| Win ratio (including before Evans era): 38% | Win ratio: 35% | Win ratio: 35% | Win ratio: 40% |
"One of the previous managers, Joe Royle, was always quoted to me by people at the club. He always said if we just had one or two extra players we were definitely going to get promoted.
"I've now found out that every manager says that. So that is something that I did think was going to be easier."
Evans leads a very reclusive existence out of the public eye.
There are no official photos of the events management tycoon and the few interviews he has given are on the proviso that the audio is not used.
He bought a majority stake in the club in 2007 and has since worked with four managers - Jim Magilton, Roy Keane, Paul Jewell and now Mick McCarthy.
Heavy investment early on has seen the club rack up a debt of around £80m to him and after repeated failures to mount serious promotion challenges, the playing budget has been significantly reduced.
Evans says he has had opportunities to sell the club, but is not interested in doing so.
"There are always people making offers for football clubs and I get offers all the time," he said.
"Therefore, if I was interested in not being involved in the club, I would have had ample opportunity in much more difficult periods to become a season ticket holder rather than the person who has to write the cheques out to support the whole club."
Marcus Evans was talking to BBC Radio Suffolk's Mark Murphy. There is more on Evans' exclusive interview in the BBC Radio Suffolk Breakfast Show on Friday, 15 August