Robbie Savage: How Diego Costa gives Chelsea the finishing touch
Last updated on .From the section Football

In his first BBC Sport column of the new season, Robbie Savage looks at Chelsea's visit to newly promoted Burnley on Monday.
I am backing Jose Mourinho's side to win the Premier League title this season and I am looking forward to seeing how his summer signings fit in.
Savage's Chelsea team to face Burnley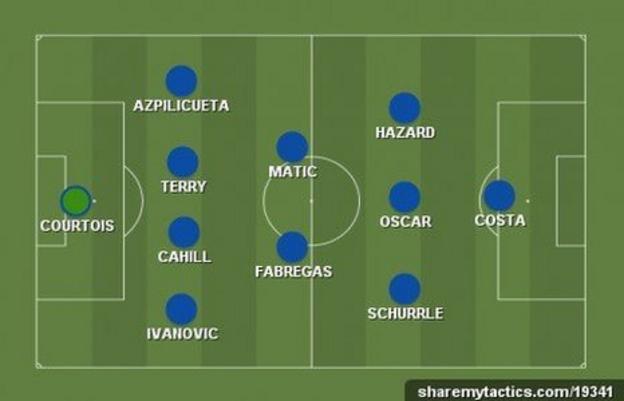 The Blues' new left-back Filipe Luis might have to wait for regular football because their defence was the best in the country last time out.
But Cesc Fabregas adds another attacking threat to their midfield and, up front, another new arrival Diego Costa is the missing piece in the jigsaw.
For me, Chelsea are clear favourites and they could end up winning the title by five or six points.
Costa completes Mourinho's construction
When they finished third last season, Chelsea had more shots than champions Manchester City and only 10 fewer than second-placed Liverpool, and managed a similar ratio on target, but the Blues scored 30 fewer goals than both the teams who finished above them.
2013-14 Premier League (and ranking)

Team

Shots

Shots on target

Goals

Man City

508 (3)

238 (2)

102 (1)

Liverpool

521 (1)

258 (1)

101 (2)

Chelsea

511 (2)

229 (3)

71 (3)

Source: Opta
Chelsea's strength was their defence last season - in their 38 games they had more clean sheets (18) than any other team and conceded the fewest goals (27).
But they were still a threat going forward - it was just that they just did not take enough of their chances. If they had had a better centre-forward then I think they would have won the league quite comfortably.
Chelsea's strikers - and Diego Costa - in the Premier League and La Liga 2013-14

Costa

Samuel Eto'o

Fernando Torres

Demba Ba

Games

35

21

28

19

Goals

27

9

5

5

Assists

3

2

5

1

Source: Opta
If you look at the players Mourinho has brought in over the summer, then I think he has solved that problem.
Costa was prolific for Atletico Madrid as they won La Liga and reached the Champions League final but he is not just a goalscorer - he can lead the line on his own, create chances and also bully opposing defenders.
In terms of his physical stature and aggression, Costa suits the Premier League down to the ground and can play the same role for Chelsea that Didier Drogba did during Mourinho's first spell at Chelsea.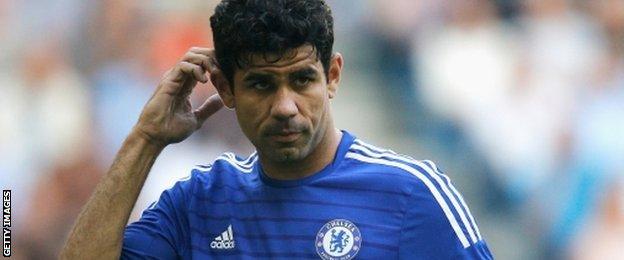 My only worry about him is that he might get distracted by his personal battle with defenders who try to wind him up.
I have watched him a lot in La Liga and saw him react a few times this season. You can bet that players will be trying the same thing now he is in England. He only got 10 goals in each of his previous two seasons at Atletico and he will have to concentrate on the goalscoring aspect of his game.
Having Costa up front means that Chelsea can now mix it physically all over the pitch, but they can also play fantastic football.
I played against Fabregas a few times and he strengthens them perfectly in midfield.
His awareness, vision and creativity is top class and, despite not being the quickest, he is also sharp over the first couple yards.
He created so many chances at Arsenal that he is still one of the leading assist-makers in the Premier League over the last 10 years despite having been at Barcelona since 2011.
Premier League assists since August 2004

Player

Assists

Games played

1. Frank Lampard

79

316

2. Wayne Rooney

77

307

3. Cesc Fabregas

70

212

4. Steven Gerrard

64

305

5. Ryan Giggs

60

257

Source: Opta
He does not mind getting stuck in either, although I don't think the Arsenal team he played for enjoyed it when they had to come to Ewood Park when I was at Blackburn. We used to really wind them up.
Fabregas really didn't like that, and I always felt I could get at him that way when he was younger, but he has always had a bit of class about him - I will never forget him nut-megging me in the corner for one of Arsenal's goals during a 6-2 win over Rovers in 2006. He was only a teenager then too.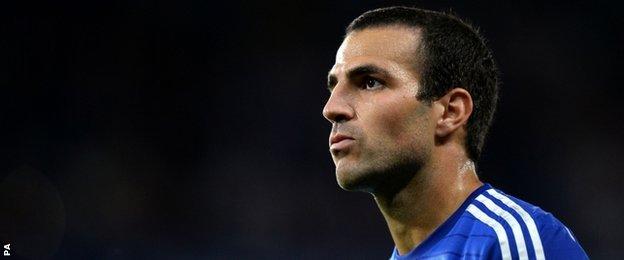 Signing him means they have got everything really - Fabregas offers them that bit of creativity, while his partner Nemanja Matic can cover the centre-halves. In the wide areas they have got plenty of pace and then they have Drogba as an impact player coming off the bench.
They look so powerful and dynamic. This is Mourinho's team now, and I would say they are the clear stand-out team in the Premier League.
How Burnley can win battle for survival
Chelsea's first opponents of the season are a Burnley team that remind me a lot of the Birmingham side I joined after they won promotion to the Premier League in 2002.
What was similar was that we had some very good Championship players in the team. A lot of good, honest lads but no superstars.
And, just like the Clarets this season, everybody thought we would go straight back down.
Nobody gave Birmingham a chance but we finished 13th, and had some great wins over Liverpool and our local rivals Aston Villa along the way.
The key to us staying up was that we created a spirit in the squad which was the best I saw in my professional career.
Along with that, we had a manager in Steve Bruce who believed in us all, and also made us believe we could win every game even when realistically we had no chance. That is what got us through.
Burnley need a goalscorer too
The same spirit and togetherness can help to keep Burnley up but they will also need a goalscorer.
At Birmingham, Steve Bruce brought in Christophe Dugarry, the France striker, in January of our first season and he scored five goals in four wins in April that sealed our survival.
Christophe broke every rule at the club but he got away with it because he was so good. He was one of the best players I ever played with and his answer to everything was "I've won the World Cup".
Burnley do not have a Dugarry to call upon on Monday but Sean Dyche's side can give still give themselves a chance of victory.
In terms of technique and talent, then player-for-player Chelsea are far better than them, but the Turf Moor crowd can create an amazing atmosphere - and Burnley's players can get in Chelsea's faces and turn the game into a horrible dog-fight.
I have been to plenty of newly promoted sides with established Premier League clubs and you have to factor in that this is their big day. However hard you try, you cannot replicate that feeling.
Some of the Burnley players will never have played in the Premier League before and they will be running round more than usual, with a lot of nervous energy.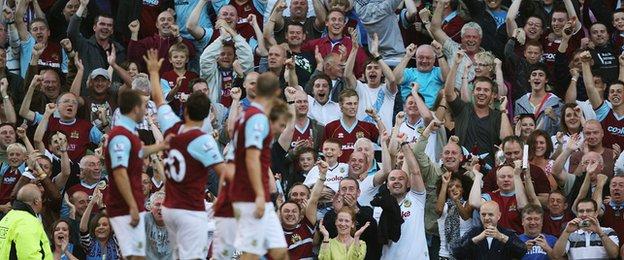 At the start of the 2005-06 season, when I was at Blackburn and we went to West Ham when they had just come up, Upton Park was bouncing, it was incredible.
Their fans made a fantastic amount of noise right through the game and their players fed off it. They were better than us that day and beat us 3-1.
Whatever Burnley's supporters do, it is a big ask for them to beat Chelsea but it is definitely not impossible.
After all, the Clarets have done something similar before, when they beat the then-champions Manchester United in their first home game the last time they were in the Premier League in 2009.
Man Utd need to strengthen to be contenders
Speaking of United, they did not make it into my predicted top four for the new season.
Behind Chelsea and Manchester City, Arsenal are a dead cert to finish up there as far as I am concerned. They have not failed to do that in any of the 18 seasons that Arsene Wenger has been in charge, plus they have improved their team after finishing fourth and also winning a trophy last season.
Savage's top four

1. Chelsea

2. Man City

3. Arsenal

4. Liverpool
As far as I am concerned, it is Liverpool who are most at risk of missing out to any improvement United make under Louis van Gaal, but the Merseyside club have made some fantastic signings and their squad is big enough to cope with the demands of Champions League football.
I still think Liverpool's priority will be the Premier League, though. Their target has to be to make the top four again.
As for United, yes, they have got a fantastic manager, yes, they have had a great pre-season playing a new system and, no, I am not bitter after they released me as a teenager - which is what some people who have heard me criticise them have claimed.
Van Gaal's record so far (in friendlies)
WIN
7-0 v LA Galaxy
WIN
3-2 AS Roma
DRAW
0-0 Inter Milan
WIN
3-1 Real Madrid
WIN
3-1 Liverpool
WIN
2-1 Valencia
But they finished seventh last season, have lost three experienced players at the back in Nemanja Vidic, Rio Ferdinand and Patrice Evra and have made only two first-team signings - Luke Shaw, who is injured, and Ander Herrera who is unproven in English football.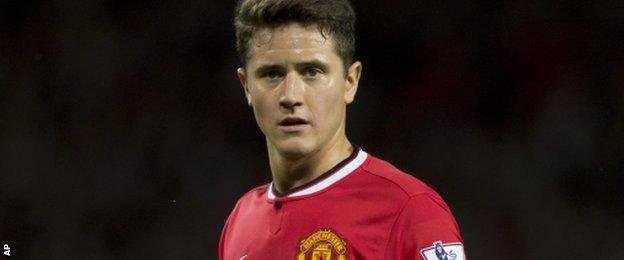 For me they are missing a spine of a centre-half, a central midfielder and a centre-forward which they will need if Wayne Rooney or Robin van Persie are injured.
If Van Gaal goes out and makes three big signings to get them before the transfer window shuts on 1 September then they could easily win the league but, with the squad they have got, I have them down to finish fifth.