Cardiff City: Ben Turner out injured for three months
Last updated on .From the section Football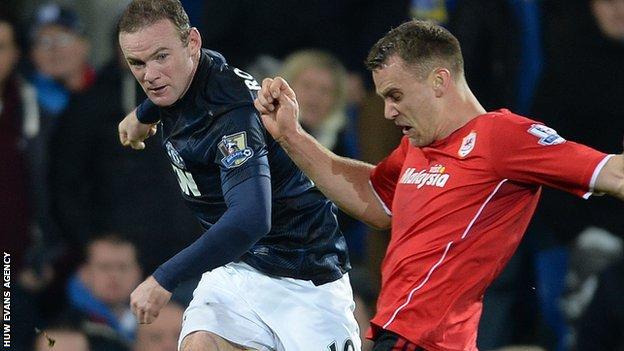 Cardiff City defender Ben Turner will miss the first three months of the season after having ankle surgery.
The news comes as a blow for Bluebirds manager Ole Gunnar Solskjaer, as the club originally expected the centre-back to be out for a month.
The 25-year-old former England under-19 international signed for Cardiff for £750,000 from Coventry in August 2011.
"Ben is going to be out for a good three months," said Solskjaer. "That's a devastating blow for us."
Turned signed a contract extension with the Bluebirds in December 2012, which keeps him at the club until 2016.
"He's a big lad, so when he goes over on his ankle and stays down you worry," said Solskjaer.
He added: "He's been fantastic and he's a great personality to have around in the dressing room.
"It's a big blow for him and he knows this league more than anyone.
"I was looking to him as one of my leaders this year, but he will come back."
The news comes on the same day that Cardiff announced
"To last in this league we need centre-backs," said Solskjaer.
"Matt [Connolly] and Mark [Hudson] did exceptionally well against Blackburn... but I've always said I wanted one in.
"And Sean, he caught my eye against Wigan. I thought he did really well, I stayed up to watch them.
"You realise in this league, that's the type of centre-back you need."