Sierra Leone continue to search for a venue for 2015 qualifier
By Mohamed Fajah Barrie
BBC Sport, Freetown
Last updated on .From the section Football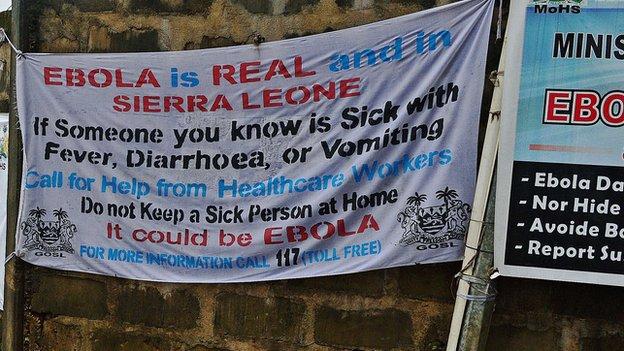 Sierra Leone are once again looking for a venue for their 2015 Africa Cup of Nations qualifier against DR Congo on 10 September.
A request from the Sierra Leone Football Association (SLFA) to play in Accra has been rejected by Ghana's Foreign Affairs Minister, Hannah Tetteh.
The SLFA has been forced to move the tie to a neutral venue because of the outbreak of the deadly Ebola virus in Sierra Leone.
"We're yet to receive the final word from our Ghanaian counterparts," Christopher Kamara, the SLFA secretary-general told BBC Sport.
Did you know?
Sierra Leone achieved their highest ever position on Fifa's World Rankings this month (August 2014) - they are number 50 globally and 7th in Africa.
"But if Ghana do turn down our request we'll contact other countries. We are looking at Ebola free countries like Morocco and The Gambia.
"The issue of us withdrawing is out of the question."
The SLFA have also made plans for their first Nations Cup qualifier against Ivory Coast in Abidjan on 6 September.
The Ivorian authorities suspended all flights to and from Sierra Leone until further notice due to the Ebola outbreak.
"We have been in touch with our counterparts in the Ivorian federation and everything is in place for the match," Kamara said.
A 20-man squad made up entirely of overseas-based players has already been named by Leone Stars coach Jonathan Mckinstry with the players travelling directly to Abidjan.
The coaches and other officials will leave from Freetown using alternative routes and will undergo tests for Ebola and then be certified as safe by the World Health Organisation.
An approach had been made to the Ghana FA even before the Confederation of African Football ordered Sierra Leone and Guinea to move their qualifiers to neutral venues.
Sierra Leone have already stopped all football activity in the country in a bid to stop the spread of the disease.