Arsenal manager Arsene Wenger says trophies relieved pressure
Last updated on .From the section Arsenal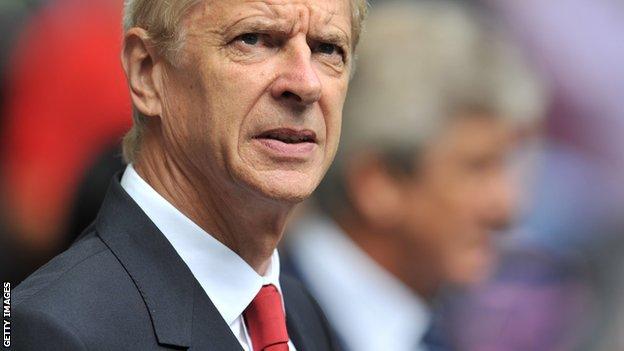 Arsenal head into the new season relieved of pressure having ended their nine-year wait for a trophy, says manager Arsene Wenger.
Wenger says the trophies have instilled a "confidence" that Arsenal can carry into the first game of the campaign at home to Crystal Palace on Saturday.
He said: "It has taken a little bit the weight off our shoulders."
The Gunners led the Premier League for much of the first half of last season, but eventually finished fourth.
They last won the championship in 2004, but Wenger believes his team will be challenging again this year having added Alexis Sanchez,Calum Chambers,Mathieu Debuchy and David Ospina to the squad over the summer,
"We have to take more points from the top teams and that will be our real challenge this year," the Frenchman continued.
"We finished fourth last year with 79 points. Man City won it with 86. So it was very tight in the top four.
"That's one or two games. If you win against them they have three points less and you have three points more. That means then it's down to one game."
Wenger believes "six or seven teams" have a genuine chance of winning the league.
"It will be a tough competition again," he said.