Man Utd: Louis Van Gaal urges captain Wayne Rooney to 'let it fly'
Last updated on .From the section Football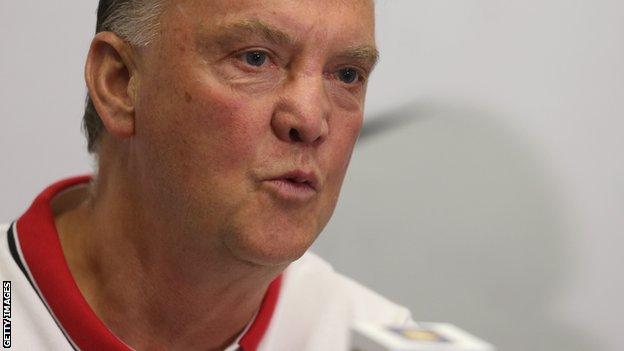 Manchester United manager Louis van Gaal says Wayne Rooney must not be burdened by his new role as captain.
"I think he wanted to show more than the upmost best to the public that he is Wayne Rooney, the new captain," Van Gaal said.
"Then I said to him: 'Let it fly, let it fly.' It is more important how you perform and not the captaincy."
Manchester United club captains
1992-96: Steve Bruce (jointly held with Bryan Robson from 1992-94)
1996-97: Eric Cantona
1997-2005: Roy Keane
2005-11: Gary Neville
2011-14: Nemanja Vidic
2014 onwards: Wayne Rooney
Rooney, 28, will lead United out at Old Trafford for their Premier League opener against Swansea on Saturday, which will be Van Gaal's first competitive match in charge.
The Dutchman said the striker seemed inhibited by the role against Valencia on Tuesday but still feels he is the right choice.
"Yeah, because he is very proud to be the captain," Van Gaal added.
"I have asked him if he was already the captain before. He said yes. But I said now you are the official captain and there is a difference."
Rooney has been stand-in captain on many occasions during his 10-year spell at United, but this is the first time he has been given the honour on a full-time basis.
Rooney insists he is ready to step up and lead by example in his new role.
"It's a massive role to take on - I'm aware of that, the responsibility of it - and I feel I'm ready at this stage in my career to do it," Rooney told United Uncovered.
"I spoke to the manager and he decided that I was right to take the role which I am delighted with. It's a great honour.
"I will perform the role as best I can."
Robin van Persie, who skippered Van Gaal's Netherlands to the semi-finals of the 2014 World Cup this summer, had been tipped to succeed Nemanja Vidic as captain.
Asked why he opted to give Rooney the armband, Van Gaal said: "His attitude, of course. That is more on the pitch and on the training ground.
"Not so much outside the pitch but I have also explained to him that outside the pitch is also very important to me.
"He accepted the responsibility and I like him very much, how he trained and also how he performed in the games, how he performed to his fellow players."
Van Gaal played down speculation that his choice of captain was a snub to Van Persie.
"This is a different situation to the Dutch national team," he said. "I think you always have to choose a native captain. I don't think there's any problem."
United won all six of their pre-season matches as they prepare for the task of reviving their fortunes on the back of their worst league campaign since 1990.
With £27m Luke Shaw out for a month after picking up a hamstring injury and Patrice Evra and Alexander Buttner having departed, the left side of United's defence appears to be an area of concern.
Youngsters Tyler Blackett and Reece James are both in contention to start on Saturday even though neither has played a senior game for the club.
But Van Gaal said: "We have nine players injured but I am not nervous. I am confident."