Hereford United: Insolvency expert advises against investment
Last updated on .From the section Football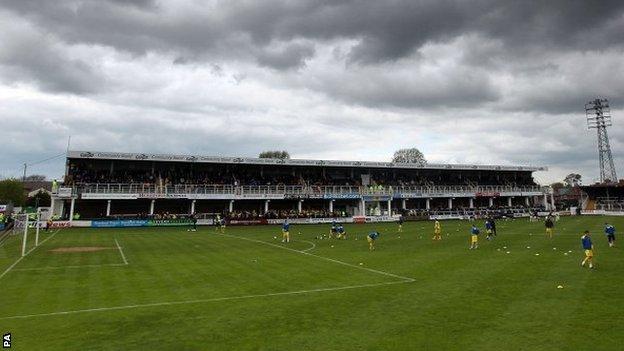 The Insolvency Practitioner who tried to resolve Hereford United's financial problems says he would not advise anyone invest in the crisis-hit club.
"Unless all the debts are paid, they will go into liquidation," Landsman told BBC Hereford and Worcester.
"If I was advising, I certainly wouldn't suggest anyone pay the debts."
Hereford's long-standing financial issues led to them being expelled from the Football Conference, and although the club were accepted into the Southern League for this season, their situation has not improved.
Producing a satisfactory CVA acceptable to the creditors who held at least 75% of the club's debt, appeared to be the most realistic route to ensuring their long-term future.
But that was rejected, with major creditor HM Customs & Revenue, who are owed £170,000, unhappy with the terms.
The Bulls were taken over by London businessman Tommy Agombar in June, who said he had put £240,000 into the club.
But he was forced to leave Hereford after failing the Football Association's directors test and subsequently sold his shares on.
"He decided to walk away on the basis that Hereford might survive," Landsman said.
"It still could be saved, but I wouldn't advise anyone to invest because it could all go dreadfully wrong."
In all probability, unless the club receive major investment before they appear before the High Court in London on Monday, 1 September, to face a postponed winding-up order, 90 years of club history will come to an end.