Celtic: Fergus McCann to banish blues with flag day return

By Richard Wilson
BBC Scotland
Last updated on .From the section Football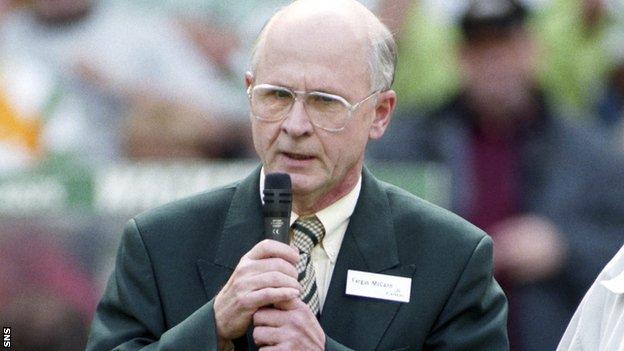 The fact that bunnets are being sold at the Celtic club shop this weekend will appeal to Fergus McCann.
He always did have a wry sense of humour, and a thick skin, but it is the commercialism he will admire most. McCann was an opportunist himself, and ruthlessly exploited and valued every penny.
When he unfurls the title flag before Celtic's game against Dundee United, the response around Celtic Park will be rapturous.
McCann does not return to the stadium often - only a handful of times since he left the club in 1999 - and for many supporters it will be an opportunity to repent.
Sixteen years ago, the same scene was played out, after Celtic won the 1998 championship and stopped Rangers from winning 10 titles in a row.
On that occasion, though, McCann was booed by large sections of the support. He had saved the club, remodelled it and then rebuilt the stadium, but it took more than a decade for the level of appreciation to begin to match the achievement.
| Fergus McCann | |
| --- | --- |
| Born in Scotland in 1941 | Fortune made in golf-based vacations in Canada |
| Purchased a 51% controlling stake in Celtic in 1994 | Sold shares to Irish businessman Dermot Desmond in 1999 |
McCann is a giant of Celtic's history, but there are nuances that reflect the complexities of the man himself.
For many fans, it took the financial collapse of Rangers in 2012 to fully vindicate McCann's approach.
He refused to spend money that the club could not afford, he prioritised the expansion of the stadium, and he was adamant that he would not concede to the salary demands of even the best players at the club.
Some fans, naturally, railed against the economics of his strategy. There were other complaints, too, since the title-winning manager, Wim Jansen, had left the club during the summer of 1998 (and was a high-profile figure in the stands on the day of the flag-raising).
A portion of fans also felt that McCann wanted to downplay the club's Irish Catholic roots.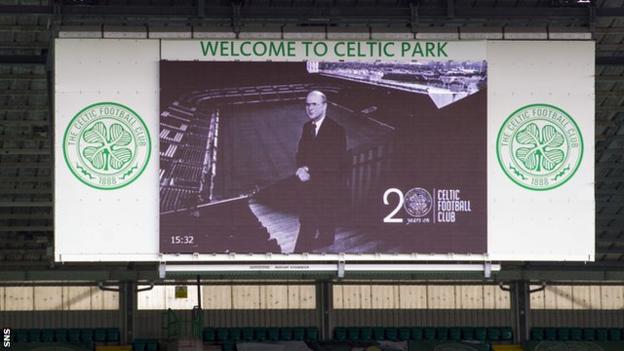 "You have to put it into some context, with the league title flag flying high, the club had moved on to a different place," said Paul Brennan, a season ticket holder at Celtic Park and editor of the Celtic Quick News website. "It was no longer on its knees.
"Fergus's commitment was to strategy and efficiency, which had allowed him to build the stadium and the team on very little money, but many of the fans just hadn't signed up to it.
"I remember not wanting to buy a ticket for the Hampden season [during Celtic Park's renovation in 1994-95] until Fergus spent some money. But [after McCann], I matured into a fan who understood money.
"So many fans were completely focused on wanting the club to sign a star player. Fergus's commitment was absolutely to be strategic; it was dreadful that some booed him. We're all going to get the chance to give the man his moment. It's an opportunity to atone."
Portrayals of McCann tend to be simplistic. After saving the club from bankruptcy, he was too often depicted as parsimonious and difficult. Now he is universally lauded as a visionary.
The reality is a mixture of traits, because he was a gifted and brilliantly shrewd businessman, an individual of long-held principles and ethics, often socially awkward, witty but cutting, private, unforgiving, capable of being scathing as well as idealistic, and a generous supporter of various charities.
McCann is also deeply religious, but never discusses that aspect of his life because he considers it sacred. He has no truck with individuals who use their Irish Catholicism as a card to play for the popularity of the Celtic support.
Despite the cynicism of many, McCann set up the Bhoys Against Bigotry campaign not for commercial or publicity reasons, but because he felt it was a cause that the club should be fighting for.
He also established the Celtic Charity Fund, because he believed it reflected some of the core values of Celtic.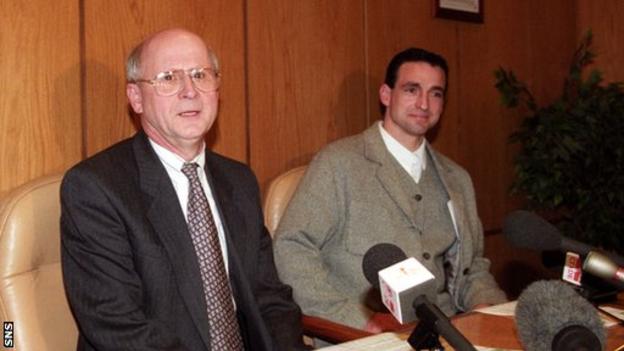 A self-made millionaire who built a new life for himself across the Atlantic, McCann essentially never left his roots.
It is a well-told tale that he obtained the satellite television rights to broadcast the Celtic v Internazionale European Cup semi-final in 1972 in Toronto, only for the signal to fail and McCann to have to provide refunds. Some suppliers went unpaid, but McCann spent two years raising the money to pay them back, barely buying himself any clothes in that time.
McCann is an arch capitalist, and would often refer to fans as customers. That was more a reflection of his instincts as a businessman than any disconnect from his life as a supporter.
In his younger years he was social convener of the Croy Celtic Supporters Club, and since leaving Glasgow in 1999 he has maintained his routine of purchasing four season tickets every year.
If there was one aspect of leaving Celtic Park in 1999 that most appealed to McCann, it was being able to think and act again like a fan - allowing emotion back into his relationship with the club - but for McCann making a financial contribution is an essential part of that commitment.
He has invited 12 guests to join him at Celtic Park on Saturday, each of whom he considers to have played a vital role either in his takeover or in the subsequent rebuilding of Celtic.
McCann spent £9.5m in the acquisition, then raised £14m in a share issue, and that contributed to funding the rebuilding work of the team and the stadium. By the end, Celtic had 53,000 season ticket holders and had regained the title for the first time in 10 years.
"On Celtic Quick News, there have been people suggesting that we name the North Stand after him," Brennan said. "He'd be embarrassed if people were talking about naming a stand after him or building a statue.
"But you'd put the likes of Stein, Johnston, McGrory and Dalglish on one level and he's one level down. There's Fergus, [founder] Brother Walfrid and one or two of the founding fathers who occupy a space below that."
In interviews earlier this year, McCann said that he was unaffected by the booing, although it did upset his wife at the time. The mood will be different on Saturday, but he tends to keep his sentiment on a tight leash.
McCann wrote to Celtic to accept their invitation, and the letter carried a heartfelt statement of his vision for the club, and its values.
He would balk at demands for Celtic to speculate with their finances. If he addresses the fans, he is more likely to speak of those values and ideals than indulge in crowd-pleasing rhetoric. Yet he has kept his distance out of respect, since he was acutely aware of the figures from Celtic's past who were vocal during his own reign.
When asked in his final television interview before departing what he would miss most about the job, he replied: "All the free advice."
It isn't McCann's style to seek the limelight or to make his voice heard. A pragmatist, and essentially a shy man, he has no need for acclaim. Nonetheless, he will be showered in it this weekend.