Richard Scudamore: No "culture of sexism" at Premier League
By Natalie Pirks
BBC sports correspondent
Last updated on .From the section Football
When two of the most important men in football talk, the sport sits up and listens. This week, it was the issue of sexism that was given their attention.
The president of football's world governing body Fifa, Sepp Blatter, said football was "too macho" and mistrustful of women at board level.
Premier League chief executive Richard Scudamore meanwhile, said he was "absolutely sure" there was no "closed culture of sexism" at the Premier League. He's had a lot of time to think about that one, since his own sexism scandal broke.
When the contents of the Premier League chief executive's private emails were leaked to the Sunday Mirror in May, it prompted a debate so vociferous that even the Prime Minister weighed in, saying a member of his cabinet would not have survived such a story.
The Minister for Sport and Equalities, Helen Grant, made her position clear.
"I found the content of those emails completely unacceptable and very disappointing, particularly at a time when there is so much good work and progress being made promoting women's sport," she said.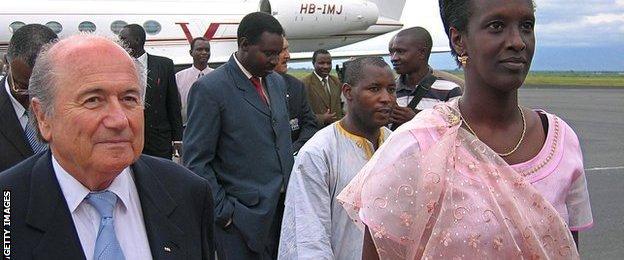 When Scudamore ultimately kept his job, there were cries of outrage from female players and diversity campaigners.
England's goalkeeper Rachel Brown-Finnis called it "an insult to all women". What there was not, though, was surprise. Hundreds of women working in football that I have met have had first-hand experience of sexism, in some form.
Scudamore has never addressed the issue publicly before now, deferring to an ongoing legal process with the secretary who sold the story.
He issued a statement at the time, speaking of his "sincere contrition", hoping that would be enough. It split opinion between those who thought he'd been vilified, to those who believed he should lose his job.
Talking about those emails on camera for the first time this week, I asked him what the Premier League was doing to champion women.
He told me almost half of the Premier League's employees are female and Scudamore can be proud of that fact - as an employer, the League does, on the face of it, seem to be championing women.
I have visited a 'Premier League 4 Sport' initiative in Birmingham where professional female players are coaching young girls - some of whom are kicking a ball for the first time - providing them with positive football role models.
And whenever I have met Scudamore over the years, I have believed him when he has spoken of the Premier League's desire to tear down walls and ensure football is a sport for both genders. But that is still not the case - at all.
Last year, three women were brought into Fifa's executive committee for the first time - Burundi's Lydia Nsekera, vice-president of the Asian Football Confederation, Moya Dodd, and Sonia Bien-Aime of the Turks and Caicos Islands.
It had taken two years from when Blatter first proposed the very notion of a female on the executive committee, for it to happen.
Wheels of change turn s-l-o-w-l-y in football. One of those ExCo members, Dodd, a former player for Australia, said at the time of Scudamore's emails: "It's important for football to take sexism as seriously as it is taking racism. Whether those attitudes are expressed privately or publicly doesn't alter the fact they exist."
She's hit the nail on the head there.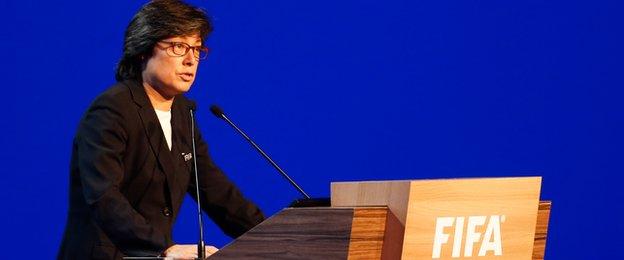 In the 14 years I have been a reporter for Grandstand, Setanta and ITV News, attitudes certainly have changed - to my face.
But if behind women's backs attitudes of misogyny still exist, then the makeup of the British boardroom being overwhelmingly male will only continue.
The 2015 government target of 25% of British boardrooms to be female looks like a pipe dream - so far 21% of them contain women and only a paltry 7% are in the top executive roles.
In football, the number is much lower. In the Premier League, there are only eight women at boardroom level - newly promoted Leicester account for two of them - and Heather Rabbatts is the only woman on the FA Board.
Of 120 people on the FA council, only six are female - little wonder Greg Dyke recently said the FA would become "increasingly irrelevant" if it continues to be an "overwhelmingly male and white" organisation.
Scudamore told me, in the aftermath of the emails, the League needs to "redouble their efforts".
Another of his colleagues, Bill Bush, director of public policy, spoke to the Women in Football, a support organisation, about things already in place, like ensuring all staff are engaged in a programme of Unconscious Bias training - the idea you could be biased against someone's disability, gender, race or age without realising it.
The Premier League also said: "Our commitment to the promotion of the women's game is longstanding, meaningful and apparent at all levels.
"Whether it is helping get the Women's Super League up and running, working with Sport England to promote female participation in sport or funding schools' tournaments for girls and mixed teams, supporting women in football is just something the Premier League does.'
Currently though, it's clear from women working in football that they do not yet feel that supported.
My experiences working in football (and it is always football) are of casual sexism - press officers telling me my presence put the team's players off training, for example, or male fans chanting sexual obscenities at me during live match broadcasts.
But I know others who have experienced far, far worse - from barring them from being able to carry out their jobs purely because of their gender, to sexual harassment and even violence in the workplace.
A survey by Women In Football released in March found that 66.4% of their members (women working for clubs, administrations and in the media) had witnessed sexism at work. Some of the respondents were, like me, mothers and had horror stories of being hit with demotions, or even losing their jobs in football, after giving birth.
I spent a total of six weeks away from my husband and toddler this summer for work and was asked constantly how I was coping and how my husband was juggling child care without me - something he is never asked when he's away on business.
Moya Dodd said she would like to see the sport get to a stage where it is unremarkable to be a female in football. I fear that might not be in her lifetime and that's a shame.
Ginger Rogers may have made a career out of it, but when it comes to women working in football, no-one should have to dance backwards all of their lives.