First Tower United demoted to Jersey Championship

By Tim Pryor
BBC Radio Jersey
Last updated on .From the section Football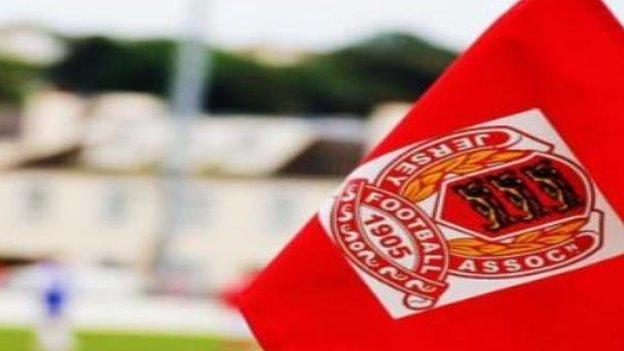 First Tower United have been relegated from Jersey's Premiership before the league season has even begun.
A player shortage means they cannot field a reserve team, and Jersey regulations prevent sides without second teams from competing in the island's top-flight.
Rozel Rovers will now take their place in the league.
"It's disappointing but this is a springboard for our season," United boss Sam Dustow told BBC Radio Jersey.
"Many of the boys who are playing for us now played for our reserve team last year and they're almost seeing it as a step up to the Championship.
"There's a good chance for players to play for a good quality side in the Championship, where we feel we'll be a lot more competitive than if we were playing some of the superstar teams."
First Tower were promoted to the island's Premiership at the end of last season after clinching the Championship title, while Rozel had narrowly missed out on promotion themselves,
Tower dominated the island's top league in the 1970s, winning 10 titles in 11 seasons.
They found fame on a national scale thanks to the late Blackburn Rovers owner Jack Walker, who bought the club in the 1990s and invested in the side, ensuring their La Hague Manor ground became regarded as one of the best in Jersey.
But after relegation in 2012 they left that ground a year later and have struggled to attract a big enough pool of players.
The confirmation of the automatic relegation comes less than a month after Magpies
"A lot of last year's first team who got us promoted have got other commitments now and with the uncertainty some have gone to other clubs," said Dustow, who warned that his club and Magpies are not alone in their struggles.
"If you look island-wide, there are troubles at many clubs and obviously the loss of Magpies is a big blow.
"There's always rumours of other teams that are struggling for players - you hear they're looking for coaches and looking for players.
"It's a real shame that especially lads who are 17 or 18 sort of fall out of love with the game after finishing junior football and don't seem to take their careers forward."
With the First Tower issue resolved though, the Jersey Football Combination has now released the fixture list for the 2014-15 season.
Premiership champions St Paul's start with a trip to St Brelade on Saturday, 6 September, while likely title rivals Jersey Scottish face league newcomers Rovers at Les Quennevais.