Kenwyne Jones: Striker vital for Cardiff City - Peter Whittingham
Last updated on .From the section Football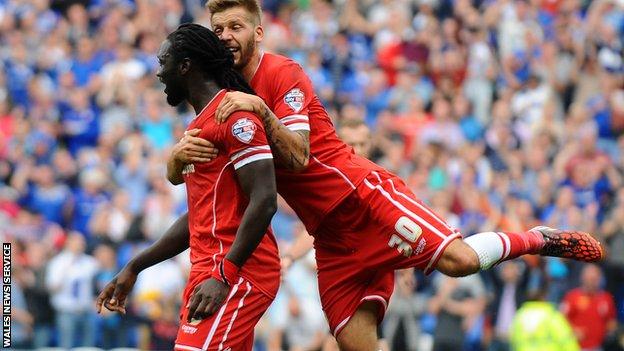 Cardiff City midfielder Peter Whittingham says Kenwyne Jones will be a vital part of the side's bid for promotion this season.
Jones' fellow goalscorer Whittingham hailed the Trinidad and Tobago international as 'brilliant'.
"He is going to be huge for us this season," Whittingham said.
"You see what a handful he is and how much of a threat he is.
"I'm just really pleased with the result and for Kenwyne to get two goals at the Cardiff City Stadium is always going to be big as well."
Jones scored Cardiff's first goal back in the Championship in the season opening draw away at Blackburn Rovers.
His goal at Blackburn was only his second goal for Cardiff since joining the club from Stoke City in January.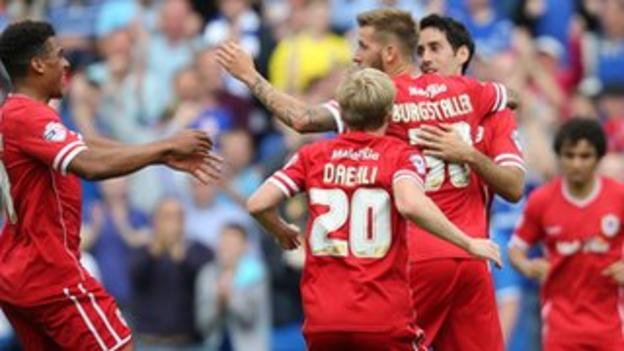 He scored another two in the home win over Huddersfield Town after Whittingham had opened the scoring with a brilliantly-taken 25-yard strike.
Cardiff manager Ole Gunnar Solskjaer is expecting a lot more from Jones, who was replaced by Javi Guerra with 22 minutes remaining.
Solskjaer said Jones was still some way short of full match fitness.
"He's still not fit enough to play 90 minutes but he does cause the opposition problems," Solskjaer said.
"He can get fitter and we're still working on him but he's a big lad and it's hard work.
"It's natural because he came to us in January having played no football whatsoever. Right in the middle of a season it's hard to have your pre-season.
"We threw him in and he played a couple of games on adrenaline but his fitness caught up with him.
"Now he's worked this summer, he's had a full pre-season and it's a different starting point for him."
"It's an important season for him because he was criticised last year."