Edinburgh derby: Tedium and thunderclaps at Tynecastle

By Tom English
BBC Scotland
Last updated on .From the section Football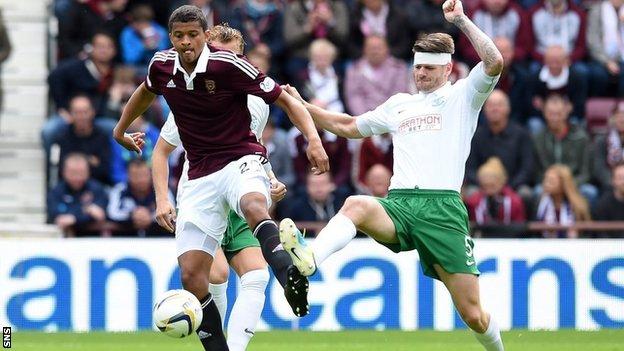 This is a time of the year in the capital when all manner of entertainment is on offer at the Festival. Good shows and bad shows. Ones that make you go "Wow!" and ones that almost make you weep at their awfulness.
Rarely do these productions have all these qualities in one bizarre package.
At Tynecastle, we did. We had tedium and thunderclaps. We had football that assaulted the senses and we had goals that were beautiful on the eye. We had aggravation and aggression; red cards and recriminations and, at the end of it, three more points for Hearts.
They've taken down their two biggest rivals in the Championship in back-to-back weeks. Not exactly heady times, but heading in the right direction, no doubt about it.
The match, though. If it was a show at the Fringe it would be the Jim Rose Circus, a bizarre troupe of characters that shock and amaze, thrill and appal in equal measure.
Now that Celtic and Rangers don't spend any time in each other's company, the Edinburgh derby has assumed the mantle of the bearded lady of Scottish football.
A little bit weird, but hard to take your eyes off all the same.
We had everything in this one. Everything. Forty-five minutes of stultifying nonsense during which Hearts had one shot on target and Hibs had none, despite having a penalty which they put wide.
And then another 45 minutes that had a gorgeous goal from Sam Nicholson - impudence and class in one sublime moment - and then another, through Farid El Alagui - ambition and skill and a finish to remember, even if it served only as consolation.
Sandwiched in between was the Jim Rose stuff. The two red cards, the grief, the allegations of a head-butt by a Hearts player on a Hibs man, the finger-pointing at another Hearts man - big Osman Sow, who walked for an elbow on Michael Nelson but who could have gone a lot earlier for another altercation that saw Nelson leave the pitch to get treatment for a cut over his eye.
Hibs left with a sense of grievance. They thought they deserved a point and, though they tried to put a lid on their anger, they felt that Hearts got away with too much in the physical confrontations.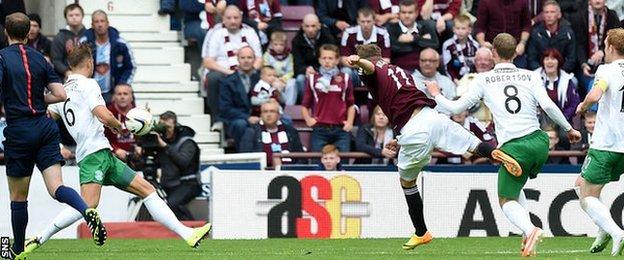 At the end you had scenes that typified the day. Liam Craig, the Hibs captain, left the pitch gesticulating at the Hearts players as he went.
Craig's fury might have had something to do with self-examination for it was he who missed the penalty that would have put Hibs a goal ahead in the first half had he not sclaffed it wide.
More likely it had everything to do with his perception of how Hearts went about their business. He had been the victim of a bad tackle by Alim Ozturk midway through the second half. He had seen Sow launch himself into things all day.
Just as there was a bitter edge to Sow's battle with Lee McCulloch last week at Ibrox - a fight settled wonderfully when the striker swept in the winner in stoppage time - so, too, was there a game within a game between Sow and Nelson.
This time, both ended as losers in a sense. Sow saw red and Nelson tasted defeat.
Robbie Neilson has a problem with Sow, a player with something to offer in the Hearts attack but one who will have myriad suspensions if he continues climbing into duels with his arms flailing. He has played two games for his club and has one yellow and one red. Neilson needs to recalibrate him, quickly.
The Hearts manager has much to be pleased about, though. His team is built on pretty strong foundations - Danny Wilson, Morgaro Gomis and Prince Buaben. The latter two are robust. They're formidable buffers in the middle of the park and won't lose too many wars in this division.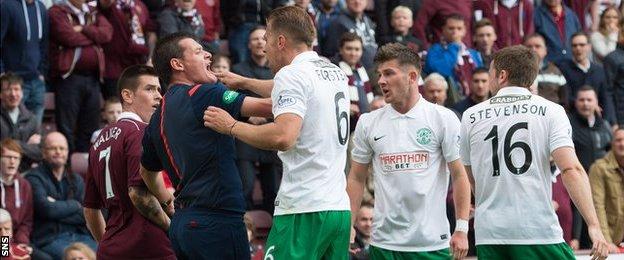 Hearts have a physical intensity that has already taken care of Rangers and which has now seen off Hibs. You feel that there's improvement in them also. Nicholson is a good young player who can do damage when he gets on the ball. Callum Paterson will be a big addition when he returns.
Alan Stubbs continues to change things from the bottom up. His condemnatory words about previous regimes at Hibs failing to build a proper infrastructure and scouting players based on their Wikipedia page hit like a howitzer.
He has an enormous job to do. A culture to turn around. Maybe he has already improved things in his short time at Easter Road but the signs of old vulnerabilities are still obvious. And he wasn't of a mind to deny it.
He spoke about the mental impact it had on his team when they missed the penalty and then the weakness they showed when conceding a second goal only two minutes after conceding their first.
The day ended - as five of the last six derbies have ended - with the sound of dejected Hibs fans being serenaded out of Tynecastle by the gloating masses. These days are not pretty, but they have a strange kind of fascination all the same.