Sir John Madejski: Reading chief plays down spending hopes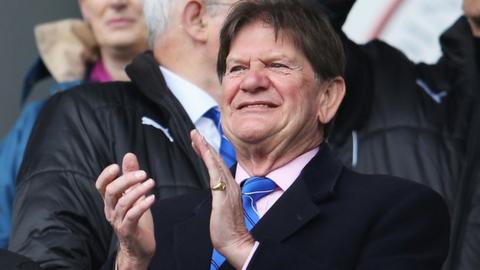 Reading chairman Sir John Madejski has played down hopes of a sudden influx of signings under the new owners.
The club recently announced a "partnership" with a Thai consortium led by Khunying Sasima Srivikorn.
The Football League are yet to approve the full takeover but Madejski told BBC Berkshire discussions have gone well and the deal is close to being sealed.
"The new consortium are not going to come here and throw their money around like drunken sailors," said Madejski.
"They will be very prudent about the whole process. We are also developing our academy which is very strong, with eight of our senior players coming out of it."
Madejski and Khunying Sasima met the Football League last week with the Reading chairman describing discussions as "thorough".
Reading, who earlier this month signed Simon Cox, Anton Ferdinand and Jamie Mackie, have been trying to find a buyer since last October and majority shareholder Anton Zingarevich stood down from the board in June.
Consortium head Khunying Sasima Srivikorn
"I love football, I love the competitiveness and I love the vibration in football. It excites me very much."
"We are ever nearer," he added. "Until then it will be business as usual, we are not going to spend millions of pounds - we are going to do it the Reading way. When we need the help the help is there.
"The good news is when the deal is totally consummated we have a future going forward that is reliable and solid for Reading Football Club which I'm delighted about. I could not wish for better partners."
Khunying Sasima, 76, confirmed the consortium would be made up of four equal partners and that she has been "impressed" with what she has seen at Reading.
"Impressed with the culture of the club, the sense of belonging that the community has for the club and the commitment of the staff," she told BBC Radio Berkshire. "They feel they are part of the club.
"I love football, I love the competitiveness and I love the vibration in football. It excites me very much. I am a football fanatic now."
She added: "The consortium is simple, to talk to each other, do the best to support the club and work with the club and management. Anything we can add or do to help we will."