Guernsey FC striker Ross Allen 'fell out of love' with football
Last updated on .From the section Football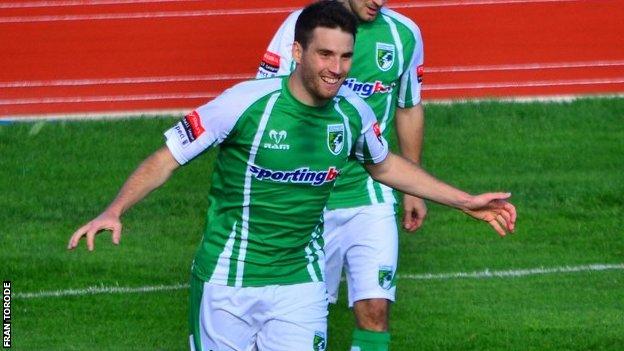 Guernsey FC's record goal-scorer Ross Allen has revealed he 'fell out of love' with football at the end of last season, despite scoring 54 goals.
"I'd sort of lost a bit of love for the game," he told BBC Radio Guernsey.
"Whenever that happens you need to take a step back and come back strong, ready to go and excited about football."
Allen insisted he is now enthused again and has been named in his first Green Lions squad of the season for Tuesday evening's game at Walton Casuals in the Isthmian League Division One South.
"I just needed a break, it had been a long season last season and I had a few things this summer," he said.
"I didn't want to be starting to play and not want to be there.
Ross Allen
Won Non-League Paper golden boot award after scoring 54 goals last season, the highest tally in non-league football
Scored 167 goals in 132 games since Guernsey FC was formed in 2011
Scored six goals in an 11-0 win over Crawley Down Gatwick on New Year's Day 2014
Hit two goals as Guernsey crushed arch-rivals Jersey 4-1 in May
"I had a good break, I had a problem with my left knee at the end of last season, so I needed to give that a good rest, and we've got the Island Games next summer, so I didn't want to go two full seasons with no real break."
Without their talisman, Guernsey have only taken four points from three games so far this season and had to come from 2-0 down inside the last 15 minutes on Saturday.
"People will look at four points from nine and be a bit despondent, but I'm not at all because I think we've showed some great stuff in certain parts of the games," said Allen.
"There's no need to panic because other teams are slipping up and we don't know who's going to be strong.
"The three teams we've played so far could be all at the top of the league come the end of the season."
Allen is only likely to be a substitute against Walton, having only had a week of training, but is aiming to reach full match fitness within the next month.
"I don't think I've deserved my place as yet, but with people unavailable it's needs must and I'm ready to go.
"I'm probably not as fit as I want to be, but you don't have to be 100% fit to score goals," he added.
"Maybe by the middle of September I'll be back to my full fitness and hopefully as sharp as I can be and back in the goals.
"That's the aim, but I'm not getting ahead of myself, everyone else has already done two months of hard work and I've only done a week, so I'm not expecting miracles and not expecting to be starting or even in the squad for the next home game."