Manchester United buzz 'shows MK Dons potential'
Last updated on .From the section MK Dons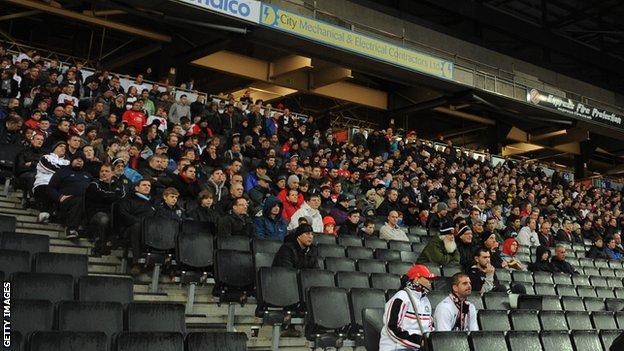 MK Dons chairman Pete Winkelman has said the expected sell-out against Manchester United will be a sign of the club's potential.
The League Cup game on Tuesday, 26 August will be MK's largest home crowd in its 11-year history.
Winkelman told BBC Three Counties Radio: "A game like Man United brings out an awful lot of people that maybe sat on the fence before.
"I think people will be amazed at the potential that Milton Keynes has."
Winkelman has made it his aim to increase the support base of the club since the controversial decision in 2003 to move Wimbledon FC to Milton Keynes, a town whose burgeoning population currently stands at 255,000.

Attendances have stabilised at around 8,600 since consecutive averages of over 10,000 between 2008 and 2010, with MK unable to achieve promotion to the Championship, a feat Winkelman says would improve gates.
Their biggest-ever crowd was for the visit of Wolves last season, with the away side contributing 8,000 fans to a total of 20,516.
But the visit of Manchester United is expected to attract a new attendance record at Stadium MK of around 29,000, with supporters queuing around the ground during the early hours of Tuesday morning to buy tickets.
"You can't grow football anywhere unless at some point you have some success," said Winkelman.
"I don't think we will grow this club in Milton Keynes without having some success.
"We could get first of all into the Championship and then one day into the Premier League and we would definitely be selling out for every game.
"You need top-flight football. My frustration is that I have not been able to deliver the success on the pitch that I want to."